In today's digital age, businesses must embrace the power of text message marketing to stay competitive, and the fitness industry is no exception. You live to motivate your gym members to meet their fitness goals by following a set of routines using the proper form and equipment for a specified amount of time. These same strategies apply to creating and executing a winning and compliant text messaging campaign strategy! With these goals in mind, you can find the right form and cadence for your audience. Let's use the below five components of a fitness plan to guide a Fitness text marketing campaign.
Five Components of Fitness Text Marketing
A. The Goal
The goals you set with your gym member are specific, measurable, achievable, and relevant, allowing the member to measure performance and see improvement over time.
The goals for your Text Marketing Plan should be the same! For example, suppose you're running a fitness challenge and want to encourage your members to invite their friends to join. You can send text messages to current members with a referral link and offer them a discount on their next session for every new member they refer. In that case, you need to determine how many referrals you want and how many members it will take to help you reach that goal based on how many members currently refer new members or participate in Refer-A-Friend promotions.
Another example may be to improve member retention. You can look at current retention rates and compare them to industry benchmarks, then launch a series of drip text campaigns that nurture the relationship and motivate the member to work out daily to keep them engaged.
B. The Frequency
How often your member exercises will depend on several variables, including meeting their fitness goals without overtraining or injuring the body, preference for workout type, and availability.
Your fitness text marketing campaign cadence and frequency must consider how often your members want to receive communications and the type of communications they are open to receiving. Establishing member interests or preferences as part of their member profile will go a long way to understanding the types of messages they should receive. These interests can easily be tagged in the texting platform so that segmentation is simple.
C. The Intensity
Whether it's finding your target heart rate and working towards it, tracking the amount of weight lifted and increasing it, or gradually exceeding the number of repetitions or sets completed, intensity is the "carrot" that keeps you moving forward toward your goal. In SMS marketing, that "carrot" is the vital "CTA" (Call to Action) or offer that moves your recipient from one phase in your sales funnel to another. For example, a fitness studio may text to get members to upgrade their membership, complete a survey, or gain 5-star online reviews by texting a link to their preferred review site.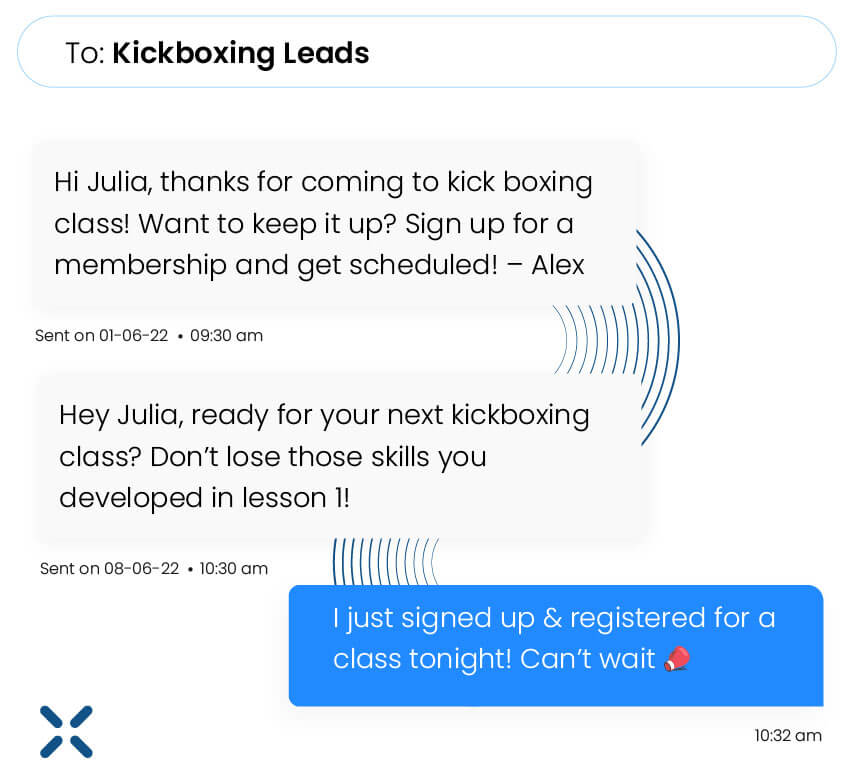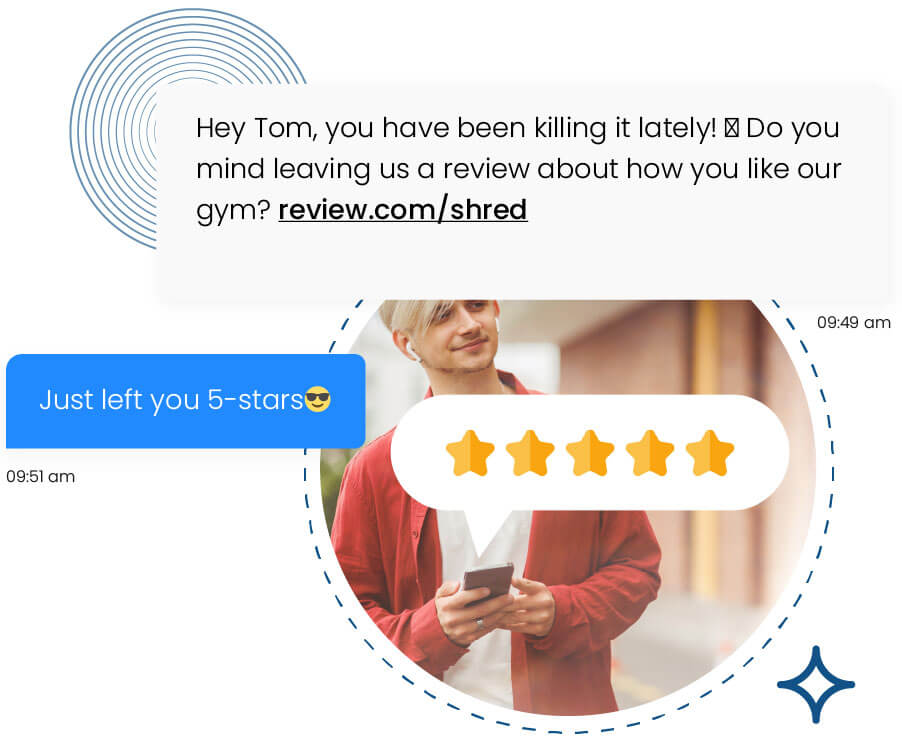 D. The Time
In your workout plan, time generally refers to the duration of the workout. Still, it is also essential to set the expectation for how long the member can reasonably expect to reach their milestones and ultimate goal.
This is the most exciting thing about text marketing! Texting saves time, and your message is usually read within 90 seconds! The results are almost immediate, and the insights are invaluable! For example, if you want to promote a new kickboxing class and get members to sign up, you can send a text invite and track the results quickly and easily.
E. The Type
The exercises and equipment used (if any) will differ based on your member's desired outcomes. If muscular strength and improved body composition are what they're shooting for, then your plan is designed to achieve those goals.
Likewise, the components of your text marketing campaign will be determined by what you hope to achieve! For example, you can use SMS or MMS options, including images, video, and gifs, or send a text with links to more information, a campaign landing page that can capture member data, or just a simple text reminder. This strategy increases engagement and reinforces why your members enjoy working out at your establishment – it's fun!
Remember that just like your fitness plan, the time to start is today, and consistency makes the difference! Plus, you can easily add timing parameters so messages go out when you want them to and do not go out when you don't want them to, i.e., 10 pm on a Sunday. Let us show you how with these Fitness SMS templates as a Fitness Texting Guide:
Guide to Fitness Text Messaging: SMS Templates
LEAD NURTURING
Hi <FIRST_NAME>, You have earned a free training session with our head trainer to help you refresh your workout. You can book here: bookmeatime.com/text/consult Congrats! – Janice
SPEED-TO-LEAD
Hi <FIRST_NAME> – We are excited to have you try our studio! This text is your 7-day free pass for you. We hope it will convince you to join before May 31. Jim – Fitness Plus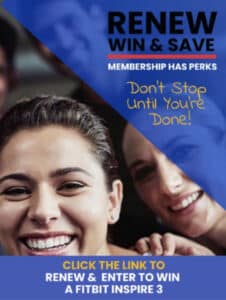 MEMBERSHIP RENEWAL WITH CONTEST PROMO
<FIRST_NAME>, Unless you've reached your fitness goal, we still have work to do! We've even sweetened the deal; you may be one of 10 lucky winners of a FitBit Inspire 3. When you renew, you're automatically entered to win!
TOUR OUR FACILITY
Hi <FIRST_NAME>, We can't wait to meet you. You'll get familiar with our equipment and other services and learn why our gym gets such high ratings! Schedule your tour here: calendly.com/abcgym
7-DAY FREE TRIAL BEGINS
Hey <FIRST_NAME>, thanks for joining us and starting your 7-Day FREE trial – we're very excited to have you on board and are committed to helping you achieve your fitness goals!
7-DAY FREE TRIAL ENDS
CONGRATULATIONS, <FIRST_NAME>! Your trial ends today, but the best is yet to come. Click the link below to become a member. We can't wait to help you continue your fitness journey! Call us back if you have any questions!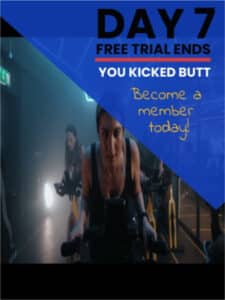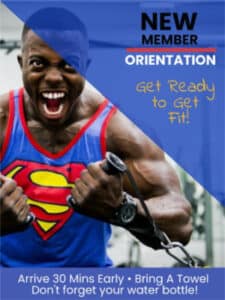 NEW MEMBER ORIENTATION
Hey <FIRST_NAME>, We're pumped that you'll be joining us, and we're committed to helping you achieve your fitness goals. See you on [day/time]!
RETENTION
Hi <FIRST_NAME> – We have missed you! This text is a 7-day free pass for you. We hope it will convince you to return before May 31. Jim – Fitness Plus
REVIEWS
Hey <FIRST_NAME>, you have been killing it lately! 💪 Do you mind leaving us a review about how you like our gym? textellent.com/reviews Thanks – Janice- The Studio
REFER-A-FRIEND
Hi <FIRST_NAME>, Thanks for attending Sunrise Yoga! Want your next session free? Refer friends for a free session for you and every member you bring in!
MEMBER APPRECIATION EVENT
Hello <FIRST_NAME>, We appreciate you and your commitment to your fitness journey! Stop by Thursday for Member Appreciation Day to get a brand-new blender bottle and enter to win some fun prizes! See you then 🤩 – Monica at Silver Gym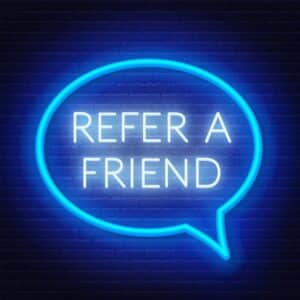 Finally, Take advantage of the best fitness texting app today
In conclusion, fitness text marketing campaigns help gym owners and fitness brands reach broader audiences and engage their members. Just like crafting a fitness regimen, a successful text marketing campaign requires specific goals, frequency, intensity, time, and type of messaging. By incorporating these five components into their SMS campaigns, fitness studios and gyms can create personalized and effective text messages that drive member retention, referrals, and sales. With the ability to save time, provide instant results, and capture valuable insights, text messaging is an essential tool for any fitness business looking to grow and succeed in today's digital world. Schedule a demo and start your free trial today. You can use a few of these pre-made fitness SMS templates as a Guide to Fitness Texting!