Resolve Issues Faster for Higher Customer Satisfaction
Customer service is often the crucial pivot point in the overall customer experience where company reputations flourish or suffer. Use our proven text messaging platform to give customers fast, easy—and often automated— access to service personnel, support resources, answers to FAQs, live personnel when necessary, and ways to get their problems solved faster and more easily. And all by texting—the preferred and most familiar communications medium.
Make it Easier for Customers to Reach You
Resolve Problems Quickly & Completely
Whether you realize it or not, your customers are probably already trying to text you. Text-enabling your main business number—so you don't miss their outreach—translates to no "on-hold" time, reduced call volume, faster response, easier back-and-forth (for Q&A, sending of support links, info-gathering, etc.), and swifter resolution.
Empower Customers to Schedule Time with You
Our business texting solution allows you to text customers a link to our robust scheduling application (or link with yours) to set up info-gathering calls, support sessions, services, and appointments, so they can get their questions answered.
Submit Pics & Docs to Accelerate Resolution
Multimedia messaging service (MMS) allows customers to easily send photos or documents before or during customer service calls to explain issues even faster.
40% of consumers have reported trying to text businesses without success
The customer service staff handles incoming calls, requests for estimates, status reports during the process, follow-up after, and customer inquiries along the way. Textellent's business texting platform for Customer Service and Support allows them to automate much of that communication while giving customers a direct channel to quickly handle issues and questions (including auto-replies to FAQs) as soon as they arise.
Text & Inform Customers Along the Way
Business Texting Keeps Customers in the Loop
If follow-up is required, customers will want updates. Text them back with answers or updates to make sure they feel that they are being taken seriously. Texting provides a convenient and immediate channel for estimates, progress updates, and an ETA for an answer.
Preserve the History
Our business texting platform captures all conversations with clients and ensures that support staff members aren't using their personal cell phones—where information can be lost. These text-based conversations can also be added to customer records in your backend operational systems.
Address FAQs with Instant Auto-Replies
For common customer requests or FAQs, crafting preset, automated, keyword-triggered, text-based answers means customers get a guaranteed instant response—even after hours—freeing up team members to deliver better service elsewhere.
38% of customers prefer texts to receive updates on order status
Many customer service organizations struggle to handle their baseline call volume, much less do follow-up, marketing outreach, or requests for reviews. Such entities could use Textellent to automate the sending of after-service thank-you texts, satisfaction surveys, reminders about upcoming warranty expirations, and more—freeing up agents to focus on customers needing greater attention.
Enhance Communication Afterward
Automate Post-Service Processes
Use preset, automated texts to send follow-up surveys and drive hassle-free booking of future appointments using our sophisticated scheduling application (or your own customer-support systems).
Remind them of Service Warranties & Upgrades
Sending automated text reminders to customers well before warranty expiration dates and warranty-upgrade options—so they don't miss deadlines—builds goodwill and loyalty.
Keep Channels Open for Future Text Marketing
When customers text your support or customer service team, it shows they're comfortable texting, creating openings for future engagement and growing brand loyalty.
Automatically Solicit Reviews via Text
By automating text-based follow-up requests for reviews on customer-service performance ensures review-gathering isn't left to chance.
72% of people asked to leave a review will do so
Textellent Works with Your Existing Support Systems
Flexible Integration Options for Texting Customer Support
Textellent offers multiple options for integrating with the familiar customer-support systems you use every day, eliminating rocky transitions and long learning curves. All text conversations, attachments, appointments, etc., are reliably captured and synced, thanks to the most robust APIs in the industry. See integration options.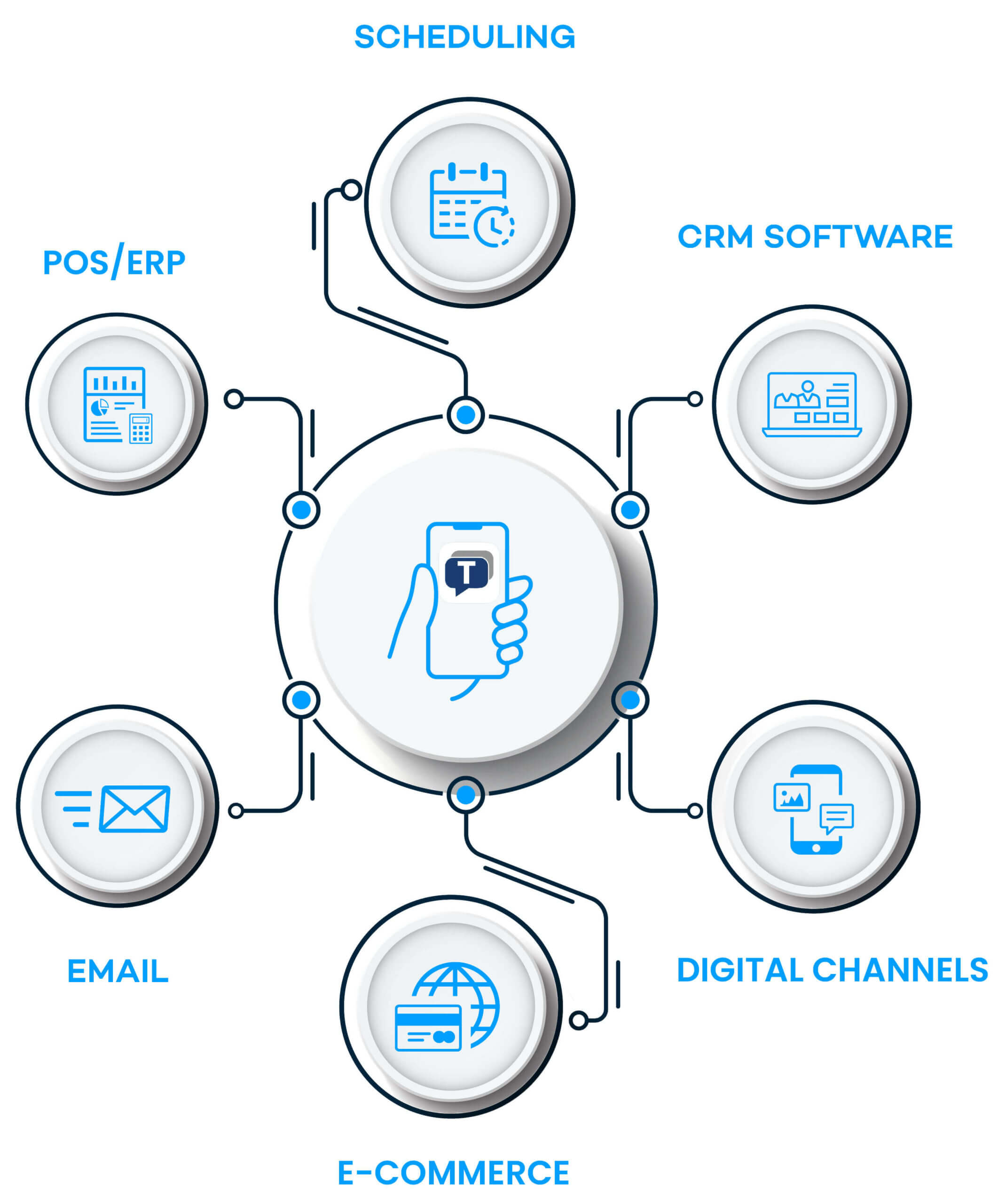 I love it
Since I start using this software I have a positive response from my customers, Easy to use. My customers have answers and questions quickly resolved.