Explore all of our capabilities:
Whether you're just getting started with texting or you're ready to move to next-generation tools for business texting, Textellent can serve your needs using some of the best customer engagement solutions. All of these features can be enabled using your current business numbers, making it easier to enhance your current business practices.
HOW YOUR BUSINESS CAN USE TEXTING
MAKE IT EASY TO COMMUNICATE
Landline, VOIP Texting using Your Number
Simply add business texting to your existing office phone number(s) without affecting voice services.
Start the Conversation
Use 1:1 texting to converse with customers to give them updates and answer questions with all conversations archived.
Mass Texting & Group Texting
Easily send a message to 10s or 1000s of your contacts instantaneously using Next Generation Tools for Business Texting.
Scheduled Messages
Schedule individual or group messages to go out on future dates.
Auto-responders
Use automatic replies for out-of-office, when staff is too busy to respond, or for any other reason.
Template Library and Image Library
Create a message once and save it to use again and even publish it for others to use across locations. Use templates for frequently asked questions. Image library can include graphics, PDFs, animated GIFs, and short videos to make your messages more engaging.
Recurring Text Blasts
Messages that need to go out regularly, such as monthly meetings, and payment reminders can be saved as templates and scheduled ahead of time.
Easy to Remember Code to Promote – Text "Glasses to 87000"
Use easy-to-remember words in your advertising and promotions so customers can text to opt-in or receive info. Use our easy-to-remember short code 87000, at an inexpensive rate, to encourage opt-ins too when a standard phone number might be too hard to remember.
Link Sharing
Include convenient review links, Calendar and Video meeting links, and payment links so contacts can easily take action. Track links to measure response rates.
Multi-Language Support
Send and receive business texts in any language, including languages that use multi-byte characters.
Mark Messages Unread or Even Open/Closed as needed
To be sure a message is noticed by others you can mark it unread or "it needs resolution", etc.
Assign Workflow to Others
Tag a message for another employee to resolve an issue as needed.
Identify Delivery Status & Clean Phone List
We'll tell you if your text was delivered, blocked, or if someone opted out and applied that information to your contact lists.
Flexible Filtering of Inbox
Filter by name, tag, incoming, outgoing, and more to make it easy to manage customer communication.
Unlimited Use of Tags
Use tags to segment contact lists, create groups, assign workflow, indicate status, and much more.
AI supported Opt-Out
All opt-outs block any outgoing messages to that contact and even contacts who respond with negative sentiment are opted out for additional compliance protection.
Robust and Flexible Reporting
Customizable dashboards let you see activity and results.
Super Simple Integration with Any Browser App
No need to toggle between applications since our Chrome extension lets you text from any browser-based app where contact cell phone numbers are stored.
Dynamic and Custom Data Fields that work like Mail Merge
Provide to, from, appointment dates/times, signatures, and custom fields to allow messages to be relevant and contextualized.
Mobile App for When You're on the Go
Take those text conversations with you and be able to respond from wherever you are.
Text Us Now Widget for Website
Any mobile visitor will see this button that allows them to text you automatically from their phone to opt-in or ask a question.
Texting Tools Designed to Streamline Communication

Are you ready to leverage one of the best business texting apps and start your Free Trial? We go the extra mile to help every business communicate easier with its clients regardless of its type or size. Contact our specialists today to learn more about our services and get a demo that will convince you that you're making the right decision!
Start enjoying the benefits of our automated texting service right away.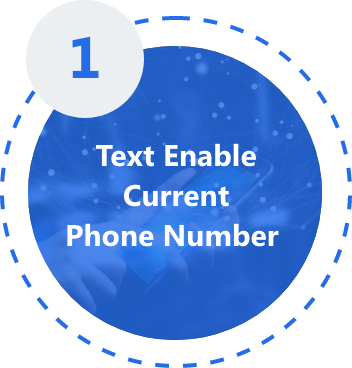 Easily add texting to landlines, VOIP and Toll-free numbers instantly.
Send a text to one person, small groups or a text blast to thousands, even 100s of thousands at once.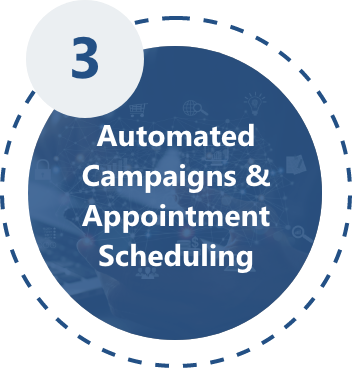 Automate workflow with full-featured scheduling, templates and triggered messages + integration options