Grow Your Business & Customer Loyalty with Texting
Owners of professional business services (e.g., insurance, lawyers, home inspections, print shops, etc.) wear many hats and typically keep their operations lean. Yet, that makes it tough to both grow their customer base AND keep up with necessary communications with current customers. Many crucial contacts—calls, follow-ups, reminders, review/referral requests—may not happen in a timely fashion, or at all. Similar businesses report that our business-texting platform—by automating the bulk of those communications—is like an "extra employee" who makes sure those contacts do happen and that your business stays professional, efficient, and growing.
Acquiring New Business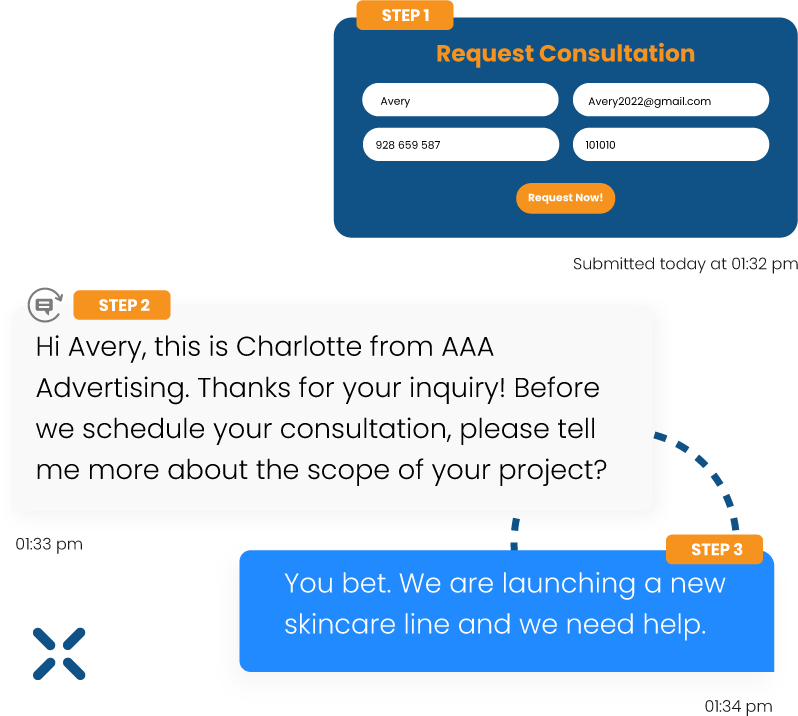 First, Make it Easier to Access You!
Adding texting to your business phone line makes it easier for new and existing clients to work with you. Go even further and add the "Text Us Now" button (a text-chat widget) to your website so they can easily inquire about your services.
Quickly Turn Ads into Business
By displaying your text-enabled business phone number, potential customers can quickly text inquiries from their phones while visiting your website. And by implementing Keyword advertising in your ad campaigns and promotional products, you create a steady flow of leads. With your ads or posts invite prospects to text Printing to your number or to Textellent's shared short code to learn more about your printing services and start the conversation easily, all while building up your future marketing list.
Keep Nurturing the Leads
Send text-marketing campaigns with information about your services, testimonials, BBB rating, and more to keep prospects considering your business first so they ultimately choose you.
Building Customer Relationships
Seriously Simple Appointment Scheduling
If your business requires one or more meetings with clients to provide your services, link prospects, and customers, by text, to our full-featured, industry-leading scheduling app (or link to your own) to self-book appointments and follow-up sessions. Customers see a branded calendar and can choose which employee to meet with and what type of meeting they are booking and will automatically get text reminders.
Text to Remind & Prepare
By automating SMS booking confirmations and even multiple reminders (if desired) about upcoming appointments (including what to bring or submit in advance), you ensure that all meetings not only happen but are optimally productive as well.
Automate the "Thank-You" after Initial Consult
Use our business-texting application for Business & Professional Services to automate the sending of a personalized "thank-you" after the first meeting, and leave a professional, "buttoned-up" impression on customers.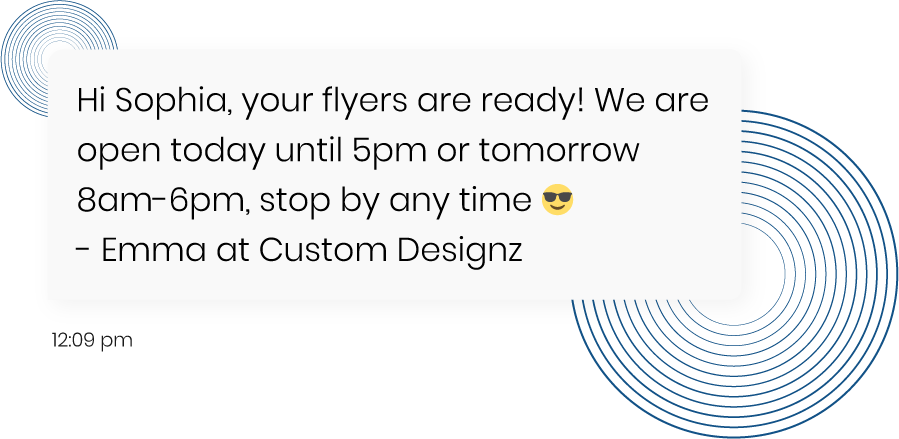 Send Birthday Greetings to Impress & Remind
Insurance agents and realtors often know their clients' birthdays and home-buying anniversaries. Use automated SMS campaigns to let clients know you care while staying "top of mind." That personal touch can go a long way toward loyalty.
Deliver Status Updates Easily (& Even Automatically)
Our business-texting app offers a fast, easy way to deliver updates to customers (e.g., "Your insurance quote is ready" or "Your print job is ready for pick up"), info on next steps, missing-paperwork alerts, etc. All can be automated and set to trigger based on back-end systems.
Automation Boosts Revenue Year-Round
Automating "stay-in-touch" contacts—holidays, newsletters, tips, new services, special offers, etc.—ensures they happen while keeping customers informed. Even better? Clients report those touches to provide openings for clients to quickly reply with questions and requests for additional services—reliably leading to more business.
Only ONE Number for All Business Communications
When clients know they can text or call the same phone number, it makes your business that much more accessible, memorable and professional. They may already have your number in their contact list, so make it even easier for them to reach out with Texting for Business & Professional Services.
73%
OF consumers say they'd like to be able to text businesses
83%
OF CONSUMERS WOULD LIKE TO RECEIVE APPOINTMENT REMINDERS VIA TEXT
72%
OF people asked to leave a review will do so
Richer Connections with More Satisfied Clients
Because texting is more immediate and personal, our business texting platform makes it easier to cultivate stronger relationships with increasingly satisfied and loyal clients. Quickly share info, respond to questions and solve problems—minus the long "on-hold" times.
Easy-Breezy, Post-Project Review-Gathering
Make it easy for customers to post reviews by sending an automated text linking them directly to the review portal—and including "5-star" images to prompt the best review. You'll predictably land more and better reviews, which can boost your SEO for continued growth.
A typical insurance agency communicates extensively with customers as they provide quotes and write policies. With Textellent's texting for Business & Professional Services, that agency can automate virtually all their other communications—marketing touches, birthday greetings, new product announcements, and more—that, given an overextended staff, can easily fall through the cracks. But, when it does happen, that outreach can often lead to new business—while conveying professionalism and attention to detail.
Keeping On Top of Communications
Deliver 24/7 Responsiveness
Boost your professionalism with automated text responses set up to instantly reply to after-hours contacts, letting customers know your hours and exactly when you'll get back to them.
Capture All Customer History
All text-based customer communications are captured and can be directly integrated with your existing systems (i.e., CRM, back-end systems, etc.), so you can better serve that customer now and in the future.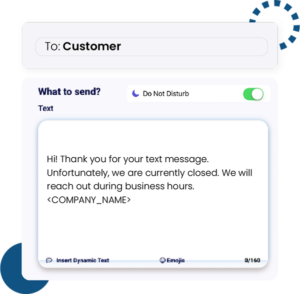 See the Results
Textellent's robust reporting functions allow you to see and gauge the response to campaigns so that you can fine-tune future text-marketing efforts and programs for optimal success.
Easily Works with Your Existing Systems
Our robust integration options make it a snap to integrate with your back-end systems and software. All text conversations are captured and can be synced back into your primary operations system.
FAQS
How can I use texting to communicate more efficiently with my customers?
-By adding Textellent's business texting service to your office phone number, you can use one-to-one texting to connect with your customers easily. This way, you do not need to use your cell phone, and you have an archive of these conversations for the future, along with the ability to send them documents and receive information from them as needed.
How can I grow my client base with texting?
-If you have a web form on your website, Consider linking the web form on your website to Textellent's Business Texting Application so that when someone inquires about your services, they immediately get a personalized text asking them to tell you more about what they need.
-Often, 50% or more of those prospects will text you details which will allow you to pre-qualify them for your services and be more prepared to engage with them so that you can call or text them back with information to help them choose you
- Wherever you advertise, you can also promote text keywords to get people to text into your office to learn more about you. For example, ask them to text "LAWHELP" to your phone number, and the system can immediately send them your brochure indicating and ask them what types of services they are seeking so that you can pre-qualify them before connecting with them.
How can texting help me manage and schedule appointments?
-Textellent offers a robust scheduling service with built-in texting so that every part of the appointment process, from confirmation to intake forms, multiple reminders, and even post-appointment reviews and referral requests, can be automated and personalized. It will also help minimize your no-show rate.
- If you already have an appointment scheduling service, then business texting solutions can integrate with that service and send appointment reminders for you, or you can send them manually if you prefer.
How can I use texting to help get my invoices paid?
- Yes, you could use our business texting platform to send copies of your invoices or even a link to your payment portal to get the attention of your clients, so they pay more quickly. This approach can help improve cash flow considerably compared to emailing invoices.
Textellent makes it so much easier
and efficient to have 2-way conversations with our clients using texting. Plus it has given us an opportunity to cross sell some of our products and services to clients and we love how many of the messages we use are automated, yet feel like we sent them out personally.
Director of Enterprise Services, Fiesta Insurance Franchise Corporation