Keep Business Growing & Communications Healthy
For owners of beauty salons or "health and wellness" enterprises (e.g. optometrists, chiropractors, retail health services, massage therapists, in-home care etc.), Textellent's business-texting service for health and wellness helps your business be more professional, efficient and profitable. How? By automating those important communications that often fall through the cracks or which require already-busy staff to make time-consuming phone calls. Along the way, it improves the health of your communications with clients, patients, and staff at every step of the appointment cycle, while letting you stay focused on doing your job.
Easily Convert Prospects to Buyers with Business Texting for Health & Wellness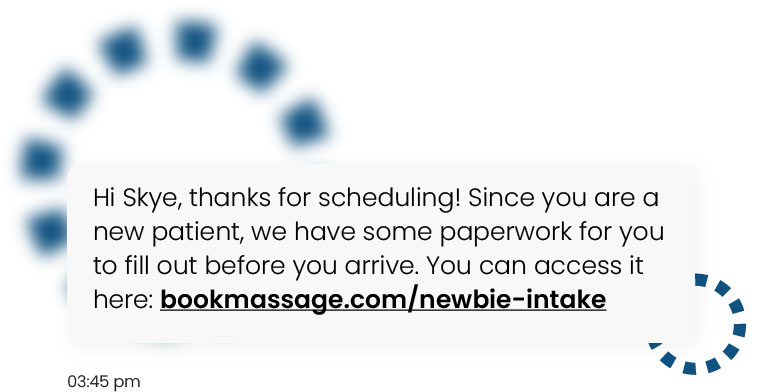 Make it Easy to Connect with You
By text-enabling your business's existing phone number, you open the door to more—and more satisfied—clients, a streamlined onboarding process, far fewer no-shows (and easier rescheduling and refilling of canceled appointments), and improved overall office productivity.
Boost Your Advertising Effectiveness
Use text keywords wherever you advertise your services, and get prospects to text your business number directly to learn more about your offerings and encourage them to book an appointment. You could add to social media post an invitation to Facial to your number to receive 10% off your first visit. This will help you build up future marketing lists.
Nurture Your Prospects, So They Choose YOU
Use our text-marketing services to conduct gentle drip campaigns with unresponsive leads. Nudge them forward with more information about your business, testimonials, or even a discount off their first service booked.
Make Scheduling Simple – Let them pick the time and practioner
Text clients a link to our full-featured scheduling software module (branded for you, or we'll integrate with your booking systems) for easy management of appointments and treatments. Include a link to a payment portal to pre-pay if required. Our text-messaging platform integrated with our scheduling software supports multiple staff members and services, meaning that customers can choose Mary for their massage, Fran for their facial, and Dr. Chris for their chiro appointment.
Remind & Prepare Clients by Text
Once clients have booked their visits, send an SMS booking confirmation, reminding them of the date and time of their upcoming visit (to reduce no-shows); what to wear (e.g., special clothes); links with what to complete beforehand (e.g., in-take forms, applications) to make the check-in process go more smoothly.
Keep 'Em Coming Back
Automate the "After"
Use our business texting solution for Wellness, Health, and Beauty to automatically send thank-you texts after appointments—with embedded links to post reviews, fill out surveys or provide feedback. Use drip campaigns to send follow-up invitations to book future appointments automatically.
Turbo-Charge Your Review-Gathering Process
For a proven way to get more—and better—reviews while improving your SEO, use our text-messaging application to automatically send review requests, complete with a link to your review sites and an image of 5 stars, to encourage them to leave a great review.
Make Targeted SMS Communications More Relevant
Use our business texting app to assign tags to customers, making it easy to segment customers by services purchased, the timing of their last appointment, or special needs. The result? You can target those groups with relevant special offers, discounts, or related services. And all delivered by text, inviting a quick response and leading to higher revenues.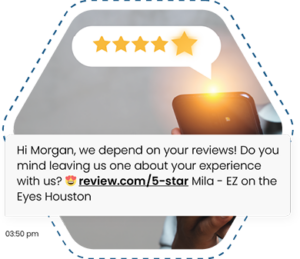 28%
more likely to recommend a company to friends if it offers a text messaging capability
295%
sms higher response rates with texting than phone call responses
72%
OF Customers WIll leave a review when asked
Janet owns a wellness salon that offers massages and nutritional consulting. Adding a chat widget on her website has spurred visitors to reach out with questions, and many opt-in to learn about her services. Based on their stated interests, they receive automated text promotions with special "try-us-out" discounts on her services. Between those, her automated treatment reminders and her growing list of reviews when she sends the requests out via texts, her new and recurring revenues have jumped.
Streamline ALL Communications
Use Texting Services to Streamline Staffing
Use our SMS marketing services to invite candidates to text in with a keyword (e.g., "Stylist") to learn about job opportunities. Automate the sending of texts confirming upcoming interviews or sending a job posting to multiple candidates simultaneously—and get responses back fast. All text threads with applicants are easily archived in your own tracking system for future reference.
Textellent's Mobile App Let's you Text from Anywhere
Never miss an important message, and keep on top of your customer communications wherever you are. Being responsive to prospects and customers is key, and the mobile app makes this a snap. Need to quickly get an important message to a roving staff member or hard-to-reach client? Texting cuts to the chase, so questions get answered, problems get solved, and things get done—faster.
Easily Works with Your Existing Systems
Our robust integration options make it a snap to integrate texting for Wellness, Health, and Beauty with your back-end systems and software. All text conversations are captured and can be synced back into your primary operations system.
FAQs
How can I gain more clients by texting?
-Make sure you're using text keywords that can be texted into your business so that prospective clients can learn more about your services and maybe receive a coupon for their first visit if appropriate. By texting in this manner, they have opted in to receive your text message marketing
- Consider offering an incentive in your advertisement to text facial to your business number or text Alan's shortcode 87,000. For example, you're using a radio ad and then respond with information about your service and a coupon for their first visit
- Also, consider tying a web form on your website to our business texting application so that once someone asks for information or sets up an initial consult with you, Textellent can automatically text them a personalized message back to learn more about what they are trying to achieve with the consult. That way, you're providing personal service, and you're engaging them right away before they can contact another service provider.
How can I reduce my no-show rate by texting?
- With Textellent's business texting services, you can send out appointment confirmations and multiple appointment reminders before and even on the day of the appointment. You can even send links to your intake forms so that clients are prepped for their appointment. Each message will be personalized with your client's name, remind them what to bring to the appointment, and it will come from your office telephone number in case they need to call back with a question. No show rates are significantly reduced using this method.
How can I promote new services to my clients?
-Once clients have opted in to receive special text promotions (that might be available only through text), you can reach out to them periodically and let them know about new services, promotions, and even tips for wellness to extend your relationship with these clients.
How can texting help me coordinate with my staff and Recruit new staff members?
- Texting is a great way to send out employee schedules, changes in hours, and policies, and even remind them of training sessions that are upcoming
- You can use our business texting solution to help Recruit new staff members by advertising on employment portals and social media to text the word " Jobs" to your business phone number, where you can send them information about your listings, send them to your application link, set up interviews and more to move the process forward more easily than email.
I have been able
to go from two front desk personnel to one per location. Texting is like having another staff member 24/7.
Multi-Unit Owner, Any Lab Test Now