KEEP UP WITH LEADS AND CUSTOMERS with Business TEXTING for Home Services
Large company or one-man shop, you face the same challenge: how to keep up with new leads interested in your services while also handling actual business from your existing customers— AND have those current clients become repeat customers. Whatever your business—landscaping, painting, carpet cleaning, maid services, handyman services—you face stiff competition. By helping you respond to customers right away, automating many marketing functions, and presenting a professional image, Textellent's business texting platform and mobile app ensure that prospects have no reason to call the next provider on the list.
From Inquiries to Appointments to Revenue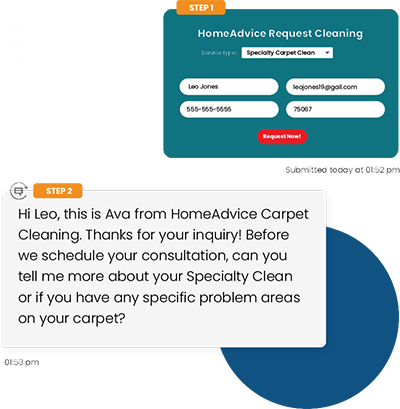 Text-Enable Your Business Line
Customers want to be able to text businesses, so make it easy for them to do just that. By text-enabling your business phone number, a potential customer visiting your website can quickly text inquiries directly from their phone to start the conversation.
Respond immediately to leads, but with a Contextual Message
Regardless of the source of a lead, Textellent offers "Speed-to-Lead" texting campaigns that immediately send a text response to engage them based on the source of the lead or ad that may have led them to you. Best results come when this message thanks them in a relevant way for the inquiry and asks for more details. 50% + will tell you more almost immediately, and now they don't have time to call the next company on the list!
Generate New Leads with Text-In Keywords
Find new prospects by leveraging your existing advertising. Promoting various "text-in" keywords with your business number—i.e., advertise on your trucks, yard signage or door hangers, Instagram—makes it easy for prospects to learn about your services, or try them out: consider offering a first-time user discount.
Repeat "Touches" Lead to Appointments
By using text-based "drip" campaigns to prospects to share information about your services, pictures of your work, testimonials, your BBB rating, and more, you make sure your business stays "top of mind" with prospects until they decide to choose you.
Textellent's Mobile App Let's you Text from Anywhere
Never miss an important message, and keep on top of your customer communications wherever you are with texting for Home & Residential Services. Being responsive to prospects and customers is key, and the mobile app makes this a snap.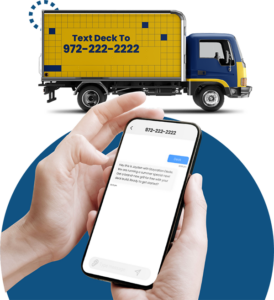 From PRODUCTIVE APPOINTMENT TO CLOSED DEAL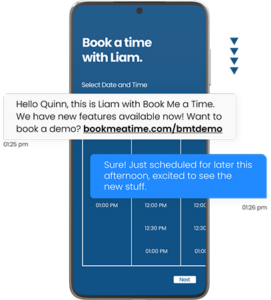 Super-Simple Scheduling and Automated Appointment Management for Home Services
Does your business need one or more meetings to deliver services? Link prospects and customers, by text, to our fully-featured, industry-leading scheduling application (or link to yours) to self-book appointments on a branded calendar. Customers can choose their desired service—and even their favorite technician. Personalized text confirmations come from your business phone number—not some random number.
Ensure Customers are Ready & Prepared
By automating useful text reminders about upcoming appointments (i.e., "Please keep pets indoors" or "Provide a parking space for our technician"), you ensure customers are at home to meet you and are prepared and ready for your team member's arrival.
Automatically Follow Up on Estimates with SMS Drip Campaigns
Even after a strong appointment, if your product is a large investment, customers will get additional estimates. Skip the annoying and time-consuming email and phone follow-up. Instead, automate a gentle text-based "drip" campaign that includes estimate reminders, testimonials, pictures of past projects, etc.—until they give you an answer.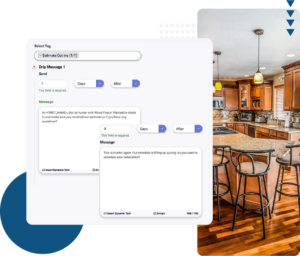 Generate Reviews and Referrals after a Completed Job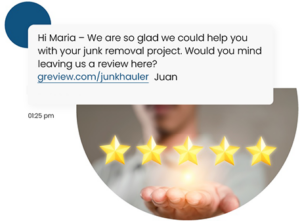 Automate Your Appreciation & Request for Reviews
Use our business-texting application to automate the sending of a "thank-you" while making it easy for customers to provide a 5-star review: your automated text links them directly to the review portal and includes a "5-star" image to prompt the best review. Use this technique to boost reviews by 300-400+%, and land new customers. Your on-site technicians can also send review requests manually from the Textellent mobile app immediately after completing their work.
Automate Referral Requests, Too
Homeowners talk and share names of quality service providers. If your Home & Residential Services business depends on referrals, reach out by automated text to customers a few weeks after service, let them know how much you'd appreciate their referrals, and, in return, offer them a discount on a future project.
72%
OF PEOPLE asked to leave a review will do so
83%
OF CONSUMERS WOULD LIKE TO RECEIVE APPOINTMENT REMINDERS VIA TEXT
73%
OF CONSUMERS WISH MORE BUSINESSES TEXTED THEM
INCREASING CUSTOMER RETENTION & REPEAT BUSINESS
Text Seasonal Promotions for Steady Business
Different times of year lend themselves to certain projects. Using personalized text blasts—to let customers know about season-specific specials or new services coming soon—makes them feel like you're sending the message just to them.
Holiday Greetings Keep You "In Mind" Year-Round
Most home-related business services will be needed again and again. Use all the holidays to text clients to let them know you appreciate their business and look forward to serving them again.
Texting Builds Loyal & Lucrative Relationships
Because texting is more immediate and personal, our business texting platform for Home & Residential Services makes it easier to cultivate stronger relationships with increasingly satisfied and loyal clients. Quickly share updates, respond to questions and solve problems as they come up.
Deliver 24/7 Responsiveness
Boost your professionalism with automated text responses set up to instantly reply to after-hours contacts, letting customers know your hours, and exactly when you'll get back to them.
Capture All Customer History
Archiving all customer conversations means that the next time you talk with a customer, they'll know you've been paying attention. These conversations can be accessed from your existing systems, meaning that, thanks to Textellent Messenger or our other integration options, you won't have to log out of one system and into Textellent to view them.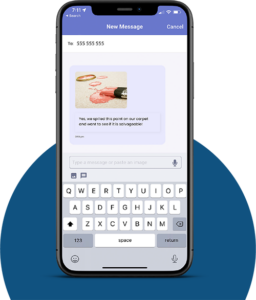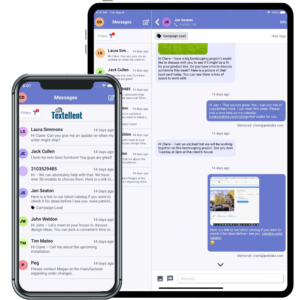 A painting company that text-enables its main business line makes it easy for prospects to reach out for more information. Using our robust scheduling app, the company can text prospects a link to self-book calls, appointments for estimates, and actual jobs. They can then automate appointment confirmations and reminders, as well as send requests for reviews after the work is completed.
Reporting—for Today's Results and Tomorrow's Success
Thanks to Textellent's robust dashboard and our comprehensive reporting and analytics functions, you'll see your campaign response rates and results, and learn how to improve future campaign performance.
Easily Works with Your Existing Systems
Our robust integration options make it a snap to integrate with your back-end systems and software. All text conversations are captured and can be synced back into your primary operations system.
FAQS
There are several ways to do this:
- Consider linking the web form on your website to Textellent so that as soon as someone inquires about your services, they immediately get a personalized text asking them to tell you more about what they need.
-Often, 50% or more of those prospects will text you details which will allow you to pre-qualify them for your services and be more prepared for the sale so that you can call or text them back with information to help them choose you
- Another approach is to include a keyword that prospects can text in from wherever they see your advertising, whether it's on a door hanger, a truck, a radio ad, or a portal. For example, you could ask prospects to text the word handy to your business phone line in order to get 10% off of their first service. At this point, they have opted in for your marketing messages, so you can reach out to them periodically.
How can I use texting to help me set up and manage the appointments for my services?
- Textellent offers a robust scheduling service integrated with texting so that every part of the appointment process, from confirmation, multiple reminders, and even post-appointment review requests, can be automated and personalized. This helps cut down on your no-show rate considerably.
- If you already have an appointment scheduling service, then texting can be integrated with that service, and appointment reminders can be sent for you, or you can send them manually if you prefer.
How can I get my customers to leave more reviews?
- A great practice is to have your technician, cleaners, or installers (once the service is complete) ask customers on the spot if they can send them a text-based review request with a review link. They can easily do this from the Textellent mobile app.
-If you prefer, the owner or manager could send out a review request to the customer when they know the job is complete.
- If you're using the Textellent Scheduler, this can happen automatically.
How can I get more referrals using texting?
- If a lot of your business is based on referrals, you could set your completed customers up to get a request for a referral a couple of weeks after the service has been completed and offer them a coupon for their next service if they provide a referral to you.
- Texting is a great way to ask for referrals since it's less awkward and easy for your customers to respond.
Sending friendly payment reminders
with text campaigns got my clients to pay right away vs. emails that got ignored. Really helps cash flow!