A Whole Menu of Tools to Boost Your Bottom Line
Textellent serves up a host of business texting services that make it a snap for restaurants and food services to communicate with customers (and employees)—and booking reservations and sending automated reminders is just the appetizer. You'll also streamline pick-up/delivery orders, gather stronger reviews, and grow both revenues and customer loyalty through regular offers and specials delivered through targeted, opt-in text campaigns.
Make it Easy & Inviting for Customers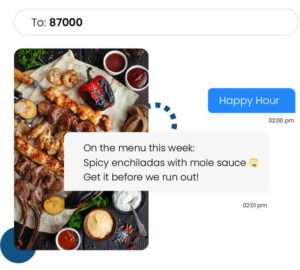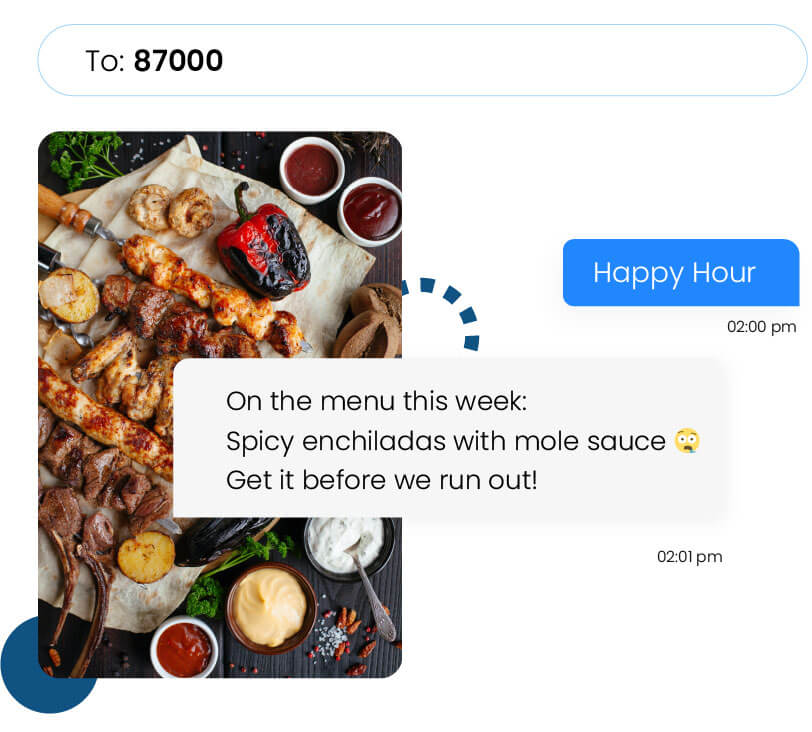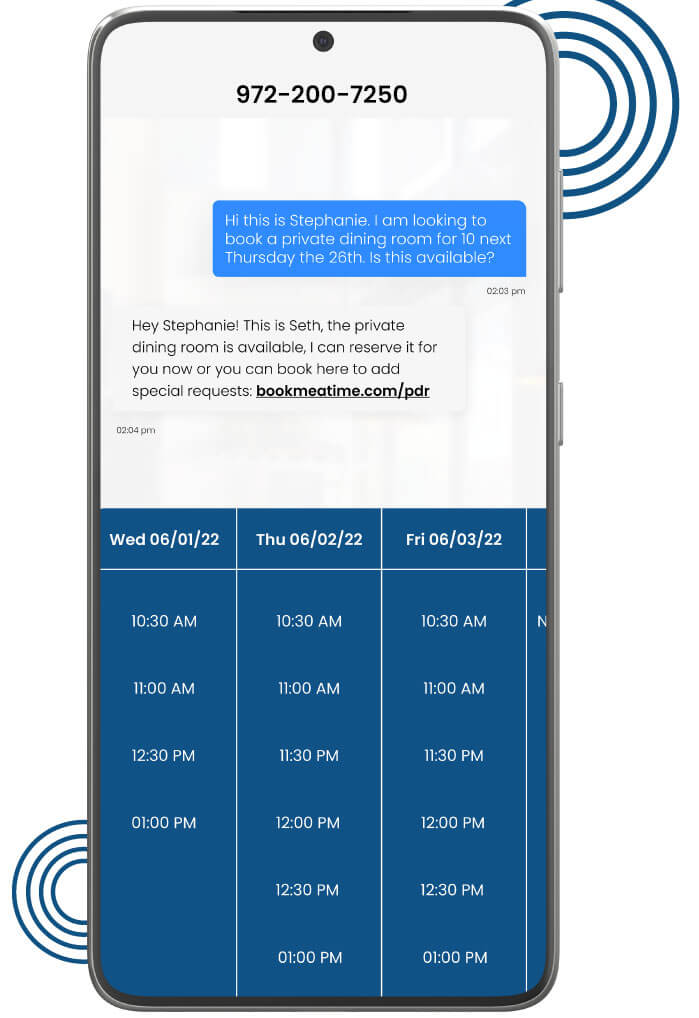 One (Phone #) & Done
When customers can call or text the same number to do it all—make reservations, place to-go/delivery orders, or ask questions—it invites more engagement and higher revenues. Texting for Restaurants & food service makes it easy to initiate friendly dialogues—within an instant contact/response medium—without tying up staff on phone calls.
Use Opt-Ins to Boost Revenue & Loyalty
Use our texting solution for restaurants to send text blasts offering customers discounts and freebies in exchange for opting into future text marketing campaigns. Watch loyalty, bookings, and revenues grow. SMS keywords can be used to identify their interests and tag them to receive relevant campaigns.
Hassle-Free Text Ordering for Pick-up & Delivery
Our text messaging platform opens an easy channel to let customers order from you directly without paying a third-party ordering entity. Text them when their order is ready or on its way, and make it easy for them to ask questions, request add-on items, or clarify delivery details.
Tailor Restaurant Marketing Texts to the Right Recipients
Use promotional SMS templates personalized to a customer segment to promote specials, themed nights, and wine tastings. Sweeten those offers with coupons and special codes—and do it all with automated text campaigns. Segment lists by stated customer preferences so you match the right offers to the right customers.
Simplify Reservations & Slash No-Shows
Let customers ask menu questions or book tables by texting your main number, and set up automatic reminders for bookings. If they can't make it, canceling is an easy text away, and the table is now free to rebook. Let walk-in customers know you'll text them when it's time to be seated.
Never Miss a Message—Even while Roaming the Floor—with Mobile App
When you're on the move in the restaurant, the Textellent mobile app makes sure you keep up with all communications. Never miss a text! Send a message to other staff quickly as easily too.
Restaurants are ideally positioned to use Textellent's business texting platform to build revenues, goodwill, and customer loyalty. By inviting diners to opt-in to VIP lists, they create a ready-made market for their special promotions, discounts, wine tastings, etc.—and all via texting, the preferred communications medium today.
Expanding Customer Relationships
Simplify Review-Gathering, Feedback & More
Engaged diners are loyal diners. Send thank-you texts after visits, along with requests (and the link) to post 5-star reviews, fill out surveys and provide feedback and suggestions.
Promote Upcoming Events & VIP Clubs
Holiday events book up fast. Let your loyal customers get "first dibs" on limited slots and social menus while offering VIPs extra perks and special access.
Got Catering or Private Events?
Add "Need Catering?" messages to ongoing text marketing campaigns to your customer base, and display, "Text 'Cater' to 87000" messages on catering vehicles, table signage, and websites. For catering customers automate scheduling, updates, reminders, and more.
Streamline Employee Communication
With our text messaging platform, it's a snap to share important reminders, updates, and policy changes with employees, along with requests to fill open shifts when someone calls in sick. Employees also have an easy portal for questions, shift-change requests, and more.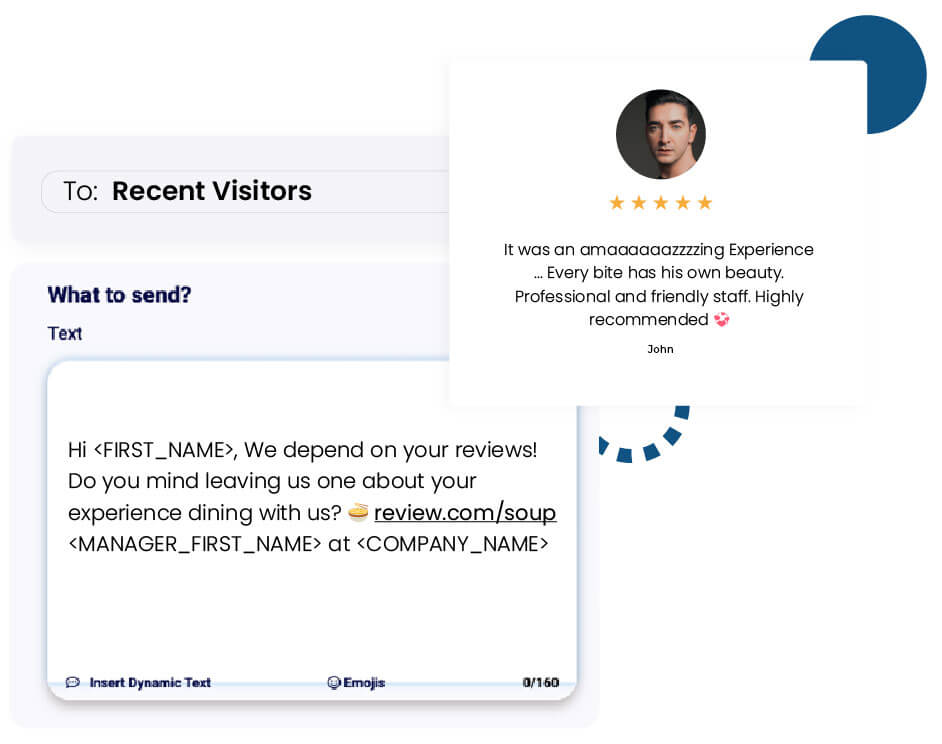 54%
OF consumers want to receive coupons, discounts, and promo codes via text
95%
OF messages are read within 3 min
90%
OF CONSUMERS using an sms loyalty program had a positive experience
Measure Results
Robust Reporting for Future Success
Textellent's comprehensive dashboard provides detailed data that lets you easily track how well your campaigns are working—opening the door to doing more of what works.
Integrate Business Texting with Familiar Restaurant Systems
Textellent's integration options allow you to easily integrate our text messaging platform into your existing booking, CRM, or calendar systems.
FAQS
How can texting help me build loyalty with my customers?
- Offer your customers via QR codes or simply advertising at the table the ability to opt into your loyalty program, or they could text keywords like "VIP" to your restaurant number to receive special offers like "a free appetizer with your next meal. "
-Now that they've opted in for text message marketing, you could send them this coupon. Periodically send them other text promotions, such as new menu items with enticing pictures to keep them coming back.
How can I use texting to let customers order from my Restaurant directly?
-By adding business texting services to your Restaurant's phone number and deploying Textellent's Text Us Now widget on your website, customers can text you what they want and ask you questions. You can then text them back when it is ready for pickup or when delivery. This can also be used for contactless pick up when they arrive.
- One-to-one texting can also be used to help coordinate with customers for special parties or events too.
How can I use texting to get more reviews?
-After customers have enjoyed their meal, if you have their phone number from the reservation, you could easily text them a review request. Include the link to your review site with a picture of five stars to encourage them to leave that type of review.
How can I use texting to communicate with my staff and recruit more employees?
- Texting is a great way to send out employee schedules, changes in hours, menu items, policies, etc
- You can use our business texting platform to help Recruit new staff members by advertising on employment portals and social media to text the word " Waiters" to your business phone number, where you can send them information about your openings, send them to your application link, set up interviews and more to move the process forward more easily than email.
We offer our cafe customers a free sandwich
on their birthday if they text in their birth dates. After that, we use texting to tell them about new menu items, holiday menus, and other specials. It's great and who doesn't like to be remembered on their birthday!