Customer engagement that delivers bottom-line profits
Textellent's next-generation business texting service addresses any serious marketer's wish list: greater brand awareness, reliable lead generation (and the ability to enter those leads into your familiar CRM), effortless contextualized engagement, and nurturing of those leads, along with robust tracking and analysis to maximize campaign effectiveness.
Attract New Business & Build Text Marketing Lists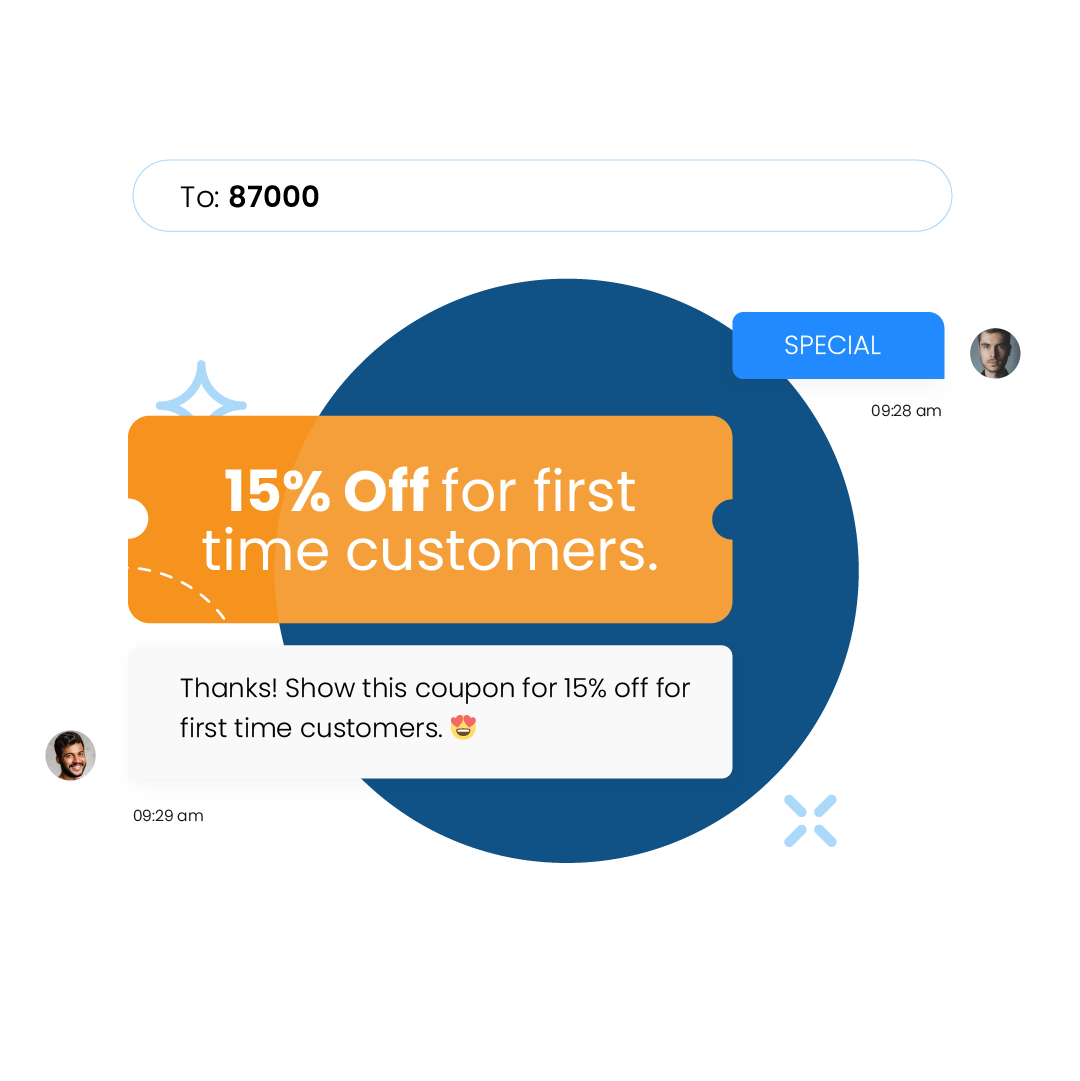 Maximize Advertising Efforts with Keyword Opt-ins
Make your advertising and marketing promotions work even harder by using keywords that encourage prospects to opt into text campaigns that promote selected (or even all) products and services. Use Textellent's shared short code or long codes to assist.
Start the Conversation with Texting (Automatically) & with Context
When a prospect completes a form submission, regardless of source, Textellent's "Speed-to-Lead" campaigns allow you to send automatic responses to prospects tailored to that lead source—ads, web forms, SMS keywords, call centers, etc. Because they know you're "listening," they're more likely to listen as you work your marketing magic.
Invite Customers to Text in from Your Website
The Textellent TextUsNow SMS widget gives visitors the option to text you as they browse your site, ask questions, or get a quote.
78% of customers are likely to redeem coupons requested in response to an ad
Attract Subscribers for Text Marketing
Provide website visitors and customers an incentive to subscribe to exclusive text-based campaigns. Use special offers or easy-to-remember, text-in promotional keywords to make it simple to opt-in, and boost engagement, subscribers, and profits.
Seamless Segmenting Tailors "Touches"
Customer leads are easily identified with distinct tags that indicate a customer's area of interest based on opt-in source, keywords, CRM data, etc., ensuring SMS text marketing campaigns target the right customer segment for optimal outcomes. Tags allow leads to be segmented automatically based on these specifics.
Campaigns Effortlessly Engage & Nurture Leads
An automated business sms service nurtures leads by soliciting pre-qualifying information, delivering what all businesses want: solid, qualified leads. Follow-up texts can use the Textellent scheduling app (or link to yours), inviting prospects to self-book a consult or meeting to accelerate the sales journey.
68% of consumers are more likely to join a retailer or brand's marketing list if they receive an instant coupon
78% of customers are likely to redeem coupons requested in response to an ad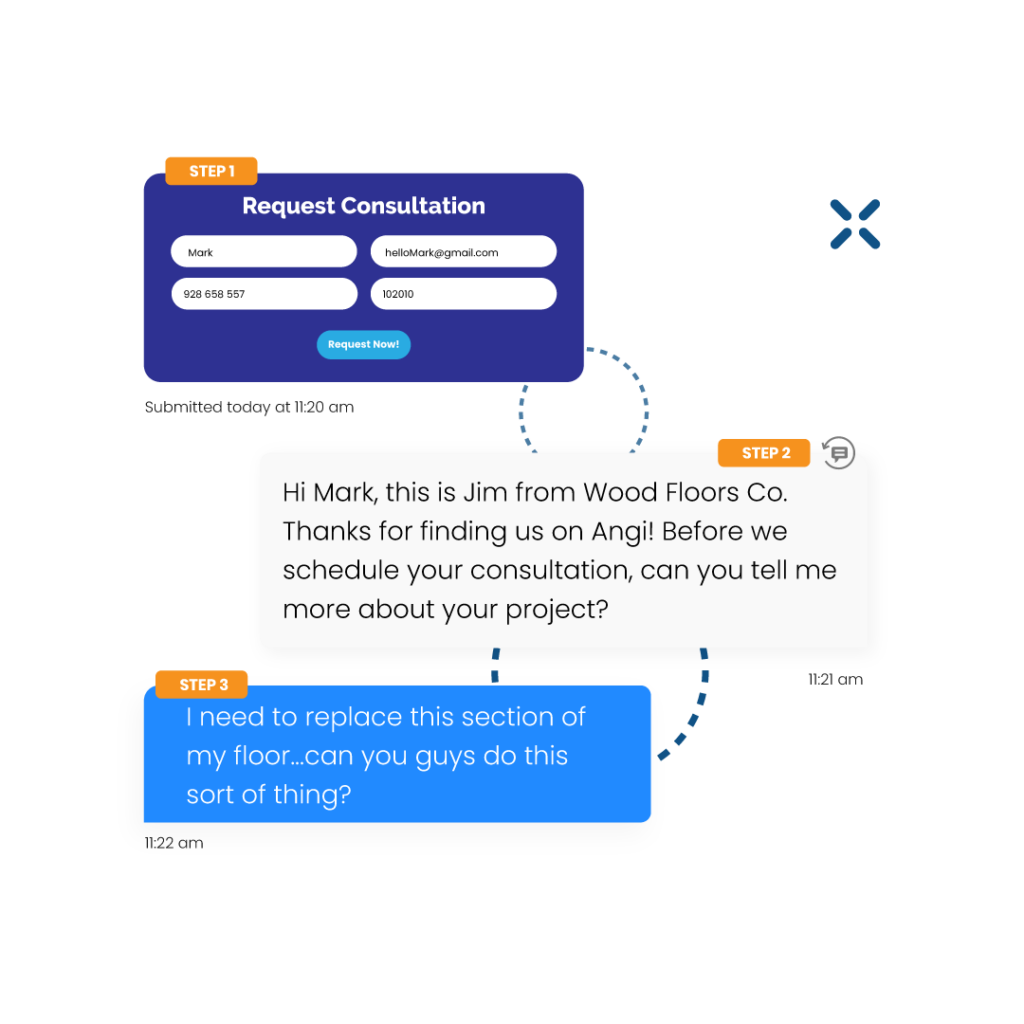 A landscaping business can offer customers a wide variety of services depending on the season. By automating the process of sending regular text marketing and promotional campaigns reminding customers to prepare for spring, and offering coupons for special services to do fall cleanup or summer maintenance, the company ensures they're first on their customer's lists. And by including special promotions or discounts in their outreach, they can keep the phones ringing all-year long.
Build Brand Awareness with Text Marketing
Texting Sets Your Brand Apart
By deploying texting, you distinguish yourself from the competition while making it easier to attract, engage and retain customers, and maximize their lifetime ROI. Easily incorporate rich, interesting, and fun imagery into texting campaigns to make engagement more likely.
Texting Turbo-charges (& Simplifies) Marketing
Texting perfectly complements and strengthens your current marketing strategy, filling in and automating any "communications gaps" and creating rich ongoing conversations.
Stay "Top of Mind" with Customers
With 95% of texts read almost immediately, texting boosts your brand's visibility to your audience. Use our text marketing services to share news, tips, and offers that boost your brand's profile and reputation while keeping customers close and "in the loop."
Stand Out by Adding Texting to Business Numbers
Our business texting solution helps boost public awareness of your brand with a familiar, always-visible (and now-text-enabled) phone number that customers can text directly and may already have in their contact list.
56% of people who research from phones make decisions quickly
Increase Customer Retention
Customers Want Outreach
Customers report that they want to be able to text businesses. A texting conversation generated from our business-texting solution opens the door to SMS marketing campaigns, special promotions, contests, and more.
Get Personal, Get Profitable
Text message marketing lets you create personalized and contextualized texts using text message templates with signatures that "come from" a local store manager, making them more credible and more likely to earn a response.
Prime the "Repeat-Business" Pump
Use Textellent's drip campaigns and robust scheduling capabilities to invite customers back for repeat service appointments and send them offer-based "We've-Missed-You" campaigns.
Effortlessly Land Customer Reviews
After they've experienced your products or services, invite satisfied customers by text to leave reviews by linking them to the review portal. Automate the process for all customers or send one-on-one review requests.
72% of people asked to leave a review will do so
An HVAC business was growing, but the limited staff made it difficult to send out appointment reminders and requests for reviews. Not to mention ongoing customer "touches" to spur customers to book their next service or get a quote on new equipment or smart thermostats. With Textellent, he can automate all that outreach, boosting both the efficiency of his staff as well as revenues from new and repeat business.
Increase Customer Lifetime Value
Nurture Leads & Create Repeat Visits with "Drips"
Let customers swap their information for special offers, discounts, or contest entries, reliably leading to greater revenue streams, but in a far more accepted medium (texting) than email.
Easily deploy automated, interval-triggered campaigns (based on their interests and when customers last purchased a product or service) that personally invite them to return again and again and lock in recurring revenues.
77% of consumers say they are likely to have a positive perception of a company offering sms
Textellent Plays Well with Others
Flexible Integration Options
From CRM and appointment-scheduling programs to payment systems and more, our text message marketing technology easily integrates into the systems you use every day. All text conversations, attachments, appointments, etc., are reliably captured and synced, thanks to the most robust APIs in the industry. See integration options.
Reporting Improves Performance
Use Texting for Marketing and Promotions and get detailed reporting functions to analyze activity as well as previous text promotion results in order to create ever more effective future campaigns.
Leverage The Power of Mass SMS Marketing Today!
Our specialists at Textellent go the extra mile when it comes to offering a tailored automated texting service to businesses of all sizes. Now you get the chance to streamline customer communication and stay ahead of your competition. Contact our experts to learn how to build brand awareness and increase customer retention using one of the best SMS marketing platforms out there.
Using Textellent's automated request
for reviews, we have seen our number of reviews easily increase by 300-400%, and we are delighted.