Explore all of our capabilities:
Enterprise-level organizations with multiple locations have unique marketing, message control, and compliance needs. They need to craft national text message marketing campaigns while having the flexibility to conduct hyper-local promotions as well. And they need to enforce strict compliance standards. Textellent is one of the best text marketing platforms that checks all the boxes, delivering a world-class, reliable, and secure business-texting solution for Enterprise and Multi-Location Organizations that works overtime to protect your brand's good name.
EASILY CREATE BRAND CONSISTENT CAMPAIGNS LOCAL, REGION-WIDE, OR NATIONWIDE
Template and Media Libraries
Using rich template controls, you create a brand-approved library with "on-message" copy and images you control and publish to be used by all locations. Template libraries allow for some localization without impacting your nationally-approved campaigns.
Create Unique Experiences Too
Introduce new customer experiences easily using Textellent's "Rules Engine." This means new experiences can be created inexpensively and quickly to match business requirements.
AI-DRIVEN COMPLIANCE TOOLS GO ABOVE & BEYOND TO PROTECT YOUR BRAND
Compliance Tools Go Above & Beyond the Word STOP
Automatically enforce compliance guidelines with opt-in requirements. The corporate office can set message limits on text blast size and cadence to prevent local managers from "going rogue."
Get an Extra Layer of Protection from Artificial Intelligence
Opt-out reporting supported by Artificial Intelligence makes TCPA compliance easy. AI monitors "sentiment analysis" in case consumers don't use typical actions/verbiage to opt out.
National Campaigns from an 800 number or your local entity
Text-enable each location's business number (recipients don't see random numbers) to support running local text message campaigns that feel more personal to consumers. PLUS, you choose: Run a system-wide campaign with one click OR encourage local execution and management of programs.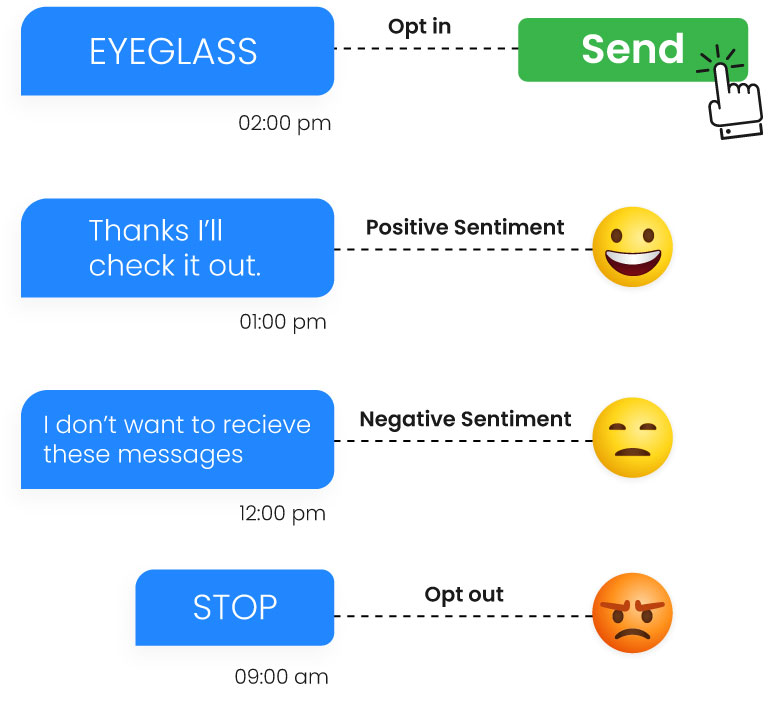 MONITOR BRANDED SMS MARKETING CAMPAIGNS LOCAL, REGION-WIDE, OR NATIONWIDE
Unique KPI Dashboards Provide In-Depth Monitoring
Unique dashboards monitor activity and results at the aggregate or local levels. See, at a glance, inactive locations that need support. Localized dashboards for local managers let them see ONLY their location's results or the results of all of one owner's locations.
Robust Business Intelligence Reporting & Analytics
Adoption and Compliance KPI Dashboards help headquarters monitor campaign roll-outs on the aggregate level while also enabling you to drill down to the local level. Sophisticated Business Intelligence tools can be tailored to deliver analytics specific to your organization, allowing you to monitor campaign results based on key metrics.
Enterprise-Class Extensibility & Scalability Built in from the Ground Up
Designed for large, multi-location organizations using open-source tech stack, hosted in a secure cloud and compliant with robust security and privacy standards. Embeddable widgets allow for interactive texting within your key back-end systems. White-labeling options are available if desired.
INTEGRATION OPTIONS for Enterprise and Multi-Location Organizations
Textellent business texting platform boasts the richest integration options and offers one of the best business text messaging services in the industry to support texting for Enterprise and Multi-Location organizations' needs.
Automated Texting Service Designed to Improve Customer Communication
At Textellent, our experts strive to deliver tailored integration options to enterprises and multi-location organizations. Contact one of our specialists today to discover our business text messaging services and how we can be of help.