Explore all of our capabilities:
You may already be sending appointment reminders to customers. Or even linking them to a portal to self-book appointments. But all that is yesterday's technology… Now, managing personal and company calendars is easier than ever. Textellent's business texting solution and all-in-one appointment scheduling with text integration incorporates texting at every step of the process, ensuring that meetings happen, that clients show up prepared so those meetings are more productive; that meeting follow-up and repeat bookings—thanks to automated texts—happen effortlessly. Whether you're a one-person shop or you have a team providing a range of appointment-based services, Textellent's business texting platform has you covered—minus the hours spent chasing customers!
Booking and managing appointments is easier than ever with Textellent's Scheduler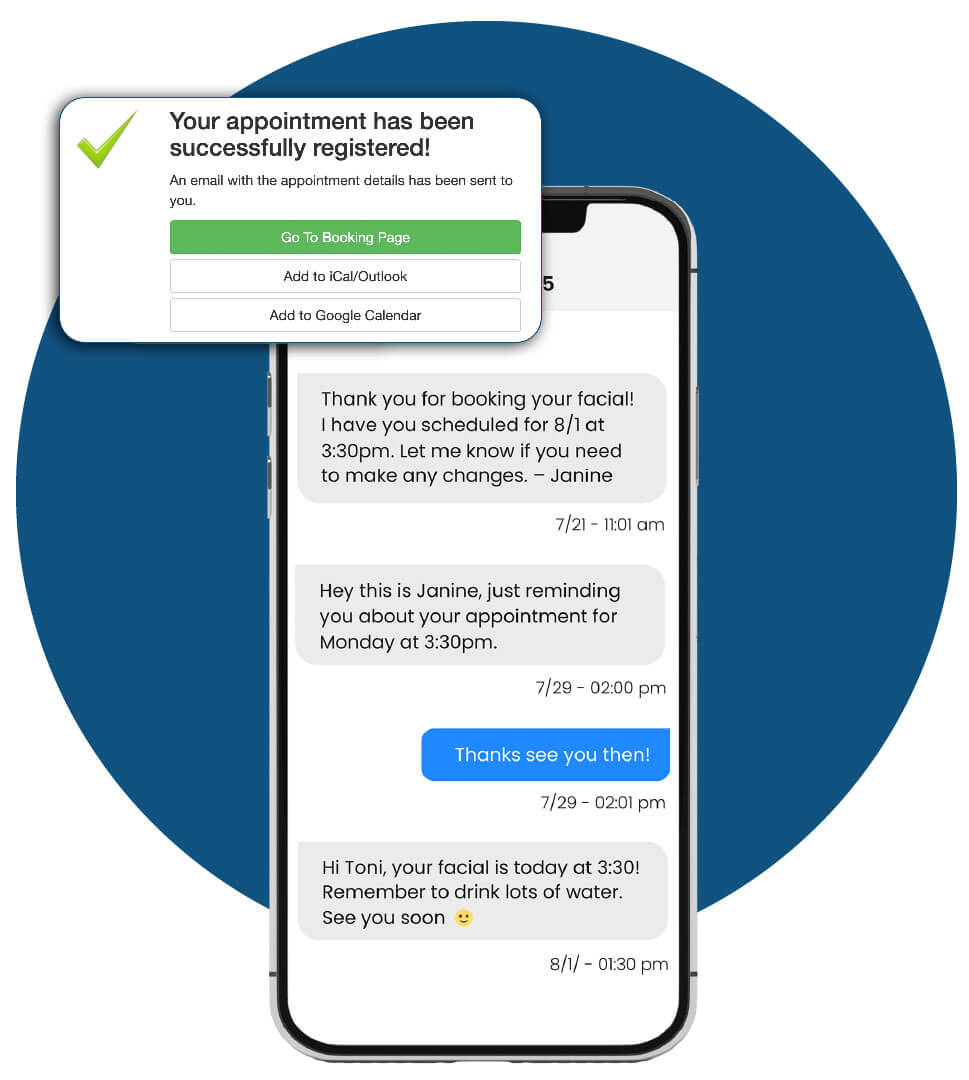 Go Beyond simple booking and reminders
Turn leads and quote requests into new meetings and repeated appointments for multiple staff members—all synced with your staff's personal calendars (all major calendars supported)
Let customers self-book
Customers can book their own appointments using our scheduler (or yours), branded to your firm, and only showing available slots. Embed the calendar on your website, and link customers to it via SMS messages.
Reminders Use Your Number
NO more random numbers that your customers won't recognize or be able to call. Customers get email and text confirmations of all appointments using your text-enabled number —not a random, unfamiliar number.
Automate Subsequent Appointments
Ensure a steady stream of future business with timed, automated follow-up text messages inviting customers to book their next appointment. Set up ongoing text reminders following appointments to book their next one, using schedule-based drip campaigns with booking links. Include coupons to try new/upgraded services, menu items, etc.
Personalized templates with signatures
Type it once, and use it forever. Using Textellent's business texting application, every text message is personalized with customer names and signatures. Include helpful video links & more.
Improve meeting preparedness & eliminate no-shows – minus tedious phone calls
Automate multiple reminders with prep instructions
Reinforce what needs to happen before appointments or meetings (i.e., submitting intake forms, job applications, financial documents or even payments) Automated Multiple reminders cut "no-shows" dramatically, saving money/staff time: According to LinkedIn, 25% of first meetings are no-shows that means lost revenue and time.
"Day-of" reminders
Reinforce time and place (i.e., send pictures of the technician arriving or maps/pictures of the meeting location) using all-in-one appointment scheduling with text integration
Managing Schedule Changes Easily & Automatically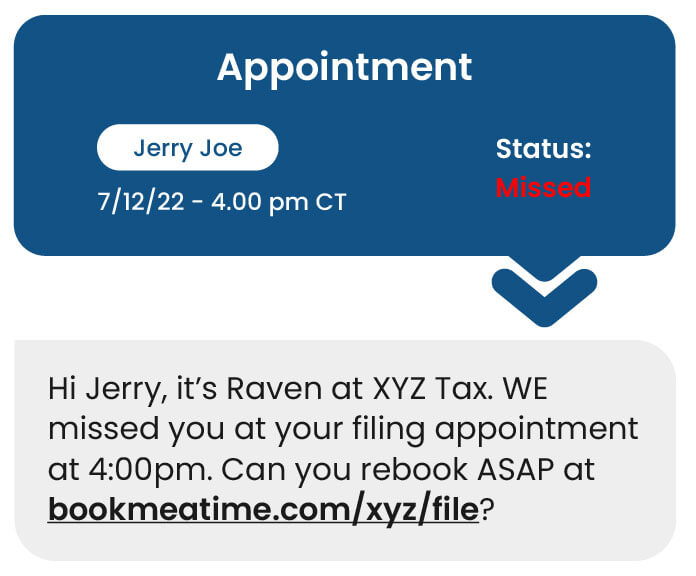 Minimize lost revenue from missed appts with automatic rebooking invites
Life happens, and people need to cancel. Text rebooking invitations, automatically triggered by cancellations, ensure they reschedule as soon as possible.
Set a time limit for changes
Textellent's scheduler lets you manage last-minute bookings and cancellations by setting a time limit for changes and how far in advance appointments can be booked. Protect your team's capacity by avoiding duplicate appointments too.
Make room for VIPS
Always make room for special clients: a preset number of meeting slots can be set aside for VIP customers to book last-minute meetings.
Good follow-up always lands business and makes YOU stand out
Automate follow-up, so next appointments get booked!
Send an automated "thank-you" after a product or service is delivered to build goodwill and stronger customer relationships.
Never Miss a Request for a Review
Automatically ask for a 5-star review after a service is delivered with a personalized text (with a link to make it simple and a 5-star image to give them the right idea), you let happy customers help build your business.
72% of consumers will leave a review when asked personally.
Automate Friendly Referral Requests
When your business depends on referrals, send a friendly—and automated—request for a referral a few days after a completed appointment.
Keep up While You are on the Go
Customers' needs don't always fit into an automation. Join the conversation anytime to make sure they're taken care of with the Textellent mobile business texting app.
Capture All Appointment History
Textellent retains all appointment data and history for reference while keeping back-end systems updated as appropriate.
There are Capabilities for Bigger Teams Too
Supports Multiple Staff Members and Locations
Have multiple staff members and services you provide? No problem: you decide who gets to book appts—i.e., customers, different staff levels, etc. Manage multiple locations and employees while only showing clients the calendar you want them to see.
Define Access to Staff Calendars
Easily define which staff members have access to the calendars of others, enabling them to book appointments on their behalf. Choose which staff can override calendar availability as needed.
Adjust your appointment capacity on the fly
Do you have more staff available on weekends? Easily boost the number of appointments and available service providers on those days. Auto-adjust for time zones, and auto-sync with your team's personal calendars (all major calendars supported—Google, Outlook, Apple).
Integration Options
Textellent's business texting platform boasts the richest integration options in the texting industry to support your organization's needs. Go here to learn more.