Many organizations depend on scheduling appointments to engage in selling, provide a service, arrange an installation, and more, and with successful meetings, the revenue flows smoothly. When scheduling is the core of your business, consider every step as a chance to enhance the customer journey. So how can you transform your processes to create excellent customer experiences at each stage, all while improving your operation and bringing in new revenue opportunities?
Transform your customer experience and business operation by re-imagining customer communications at every stage. In today's rapidly changing professional landscape, businesses are always looking for ways to streamline processes and enhance customer experiences. One way to achieve both goals is to simply… think bigger!
A significant trend that can elevate that journey is integrating business texting with appointment-scheduling applications! Texting to automate appointment scheduling allows companies to communicate better with their customers, automate reminders and updates, automate repeat bookings, generate reviews, and identify new marketing opportunities, ultimately leading to better customer relationships and increased revenue. In this blog, we will examine the advantages of integrating business texting with appointment scheduling applications. We will also discuss how the integration works and offer tips for when to text and what to say.

Why Adopt Business Texting?
Recent studies have shown an increase in consumer demand for texting. For example, 78% of consumers say they want to be able to text businesses. 90% want to receive appointment reminders via text. While many organizations have relied on email for such communications in the past, it is time to add texting as a new and powerful communication channel geared to create better customer engagement. Texting for Businesses is rapidly gaining popularity due to its low cost, efficiency, and flexibility of communications.
Why businesses choose to text:
Immediate and Convenient: Texting is a quick and convenient form of communication that allows businesses to reach their customers and clients in real time instantly.
Broad Reach: Texting is a widely adopted communication method, with nearly every adult in the US owning a smartphone. Therefore, business texting is a cost-effective way to reach multiple customers and clients.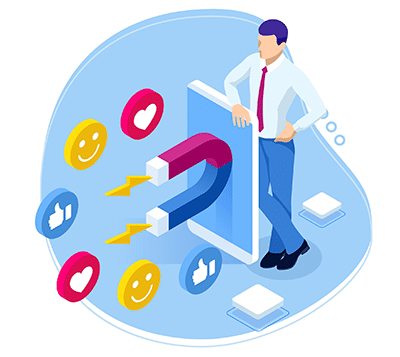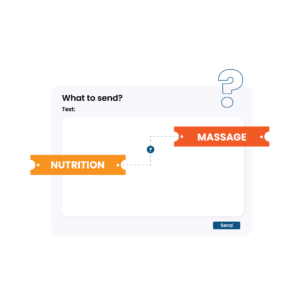 Recognizable: Customers recognize it when businesses add texting capability to their primary business line (as opposed to a unique 5-6 digit number) and are more likely to respond. Texts receive a 90% read rate, and it is common to see response rates of 35%+ when businesses take this approach.
Personal and Engaging: A unique form of communication, Business Texting, allows businesses to engage with their customers on a one-to-one or one-to-many basis. In addition, many text marketing applications allow advanced personalization and segmentation, so getting the right message to the right customer at the right time, is a breeze.
Increased Productivity: Texting saves staff time since they no longer have to spend time on tedious tasks, such as confirming appointments, rescheduling, or requesting reviews over the phone or via email.
Overall, businesses choose to text because it offers a fast, convenient, and personal way to communicate with clients while increasing productivity and generating additional revenue.
How to Leverage Your Investment in a Scheduling Application?
You likely already use an appointment scheduling application. These applications allow businesses to manage their appointments more efficiently and effectively, saving time and increasing productivity. In addition, some more advanced scheduling systems allow unique features and personalization to fit your business needs better. Some of the benefits of adopting a more robust scheduling application such as Textellent's Scheduler include: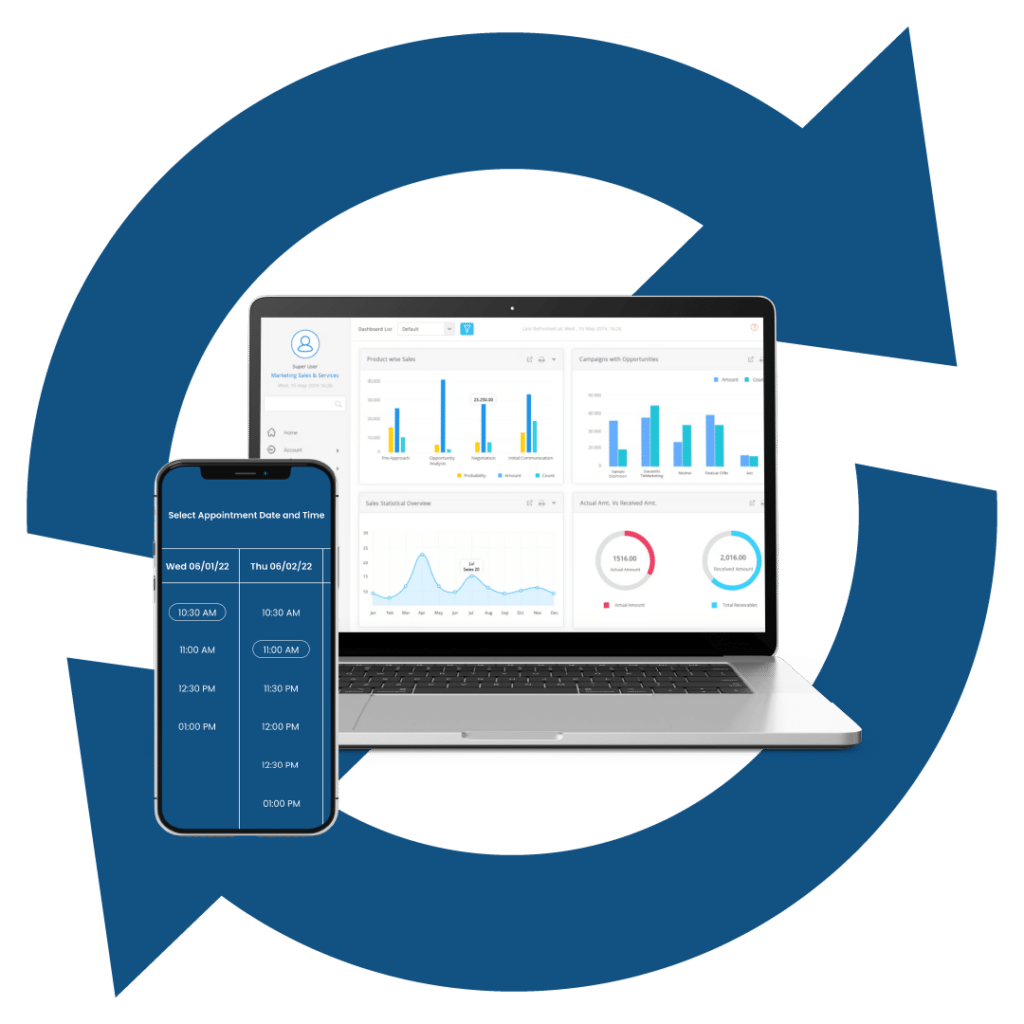 Time Savings & Increased Productivity: Advanced scheduling applications can automate manual tasks involved in scheduling appointments and streamline the scheduling process, saving businesses time and increasing efficiency.
Improved Customer Experience: Allowing customers to schedule appointments online enhances the customer experience. Customers can leisurely schedule appointments without calling the business during business hours.
Better Data Management: Scheduling applications provide a centralized system for tracking and managing appointments. Therefore companies see improved data accuracy and gain valuable insights into their appointment scheduling process.
Businesses use appointment scheduling applications because they offer a convenient, efficient, and time-saving way to manage appointments while improving the customer experience and boosting revenue. However, using the right business texting application, many of these results and more are possible with any scheduler or calendar, including Google Calendar, Outlook, iCloud, etc.
Why Integrate Business Texting with Appointment Scheduling?
Unlock the vast potential for improvement by integrating business texting to automate scheduling. Identify each step in your customer journey where texting can enhance the experience. This combination brings a new level of power and automation, transforming your process and providing an engaging customer journey. By connecting these technologies, businesses unlock new opportunities to automate their scheduling process, improve customer experiences, and drive more revenue.
Why Businesses Choose to Elevate Their Operations with Texting to Automate Appointment Scheduling:
Minimize Appointment Cancellations and No-shows: Integrating business texting with an appointment scheduling app allows businesses to communicate with their customers and clients in real-time, providing confirmations, multiple reminders that are fast and efficient, and updates—all with the intent of decreasing no shows making sure all parties are prepared for the appointment and preserving revenue.
Increase Flexibility: Integrating texting with a calendering application allows customers to ask questions, confirm, and reschedule appointments via text, providing increased flexibility and convenience.
Enhance Customer Satisfaction: By improving communication and providing increased flexibility and professionalism, businesses can enhance the customer experience and increase customer satisfaction. This leads to increased customer loyalty and repeat business.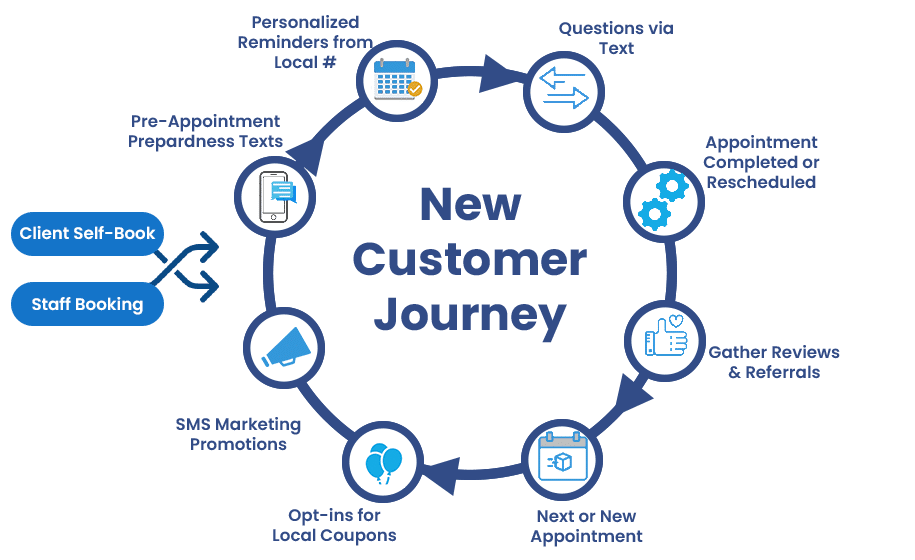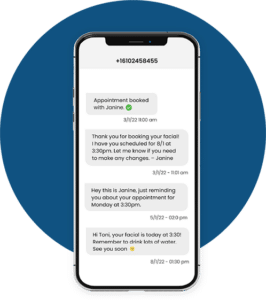 Generate Post-Appointment Feedback & Reviews: After an appointment is complete or service is delivered, businesses can automate the request for customer feedback and/or request reviews via text. This personal touch and convenient approach has significantly increased reviews when organizations provide their review link in the text.
Repeat Bookings: When your business relies on repeat customer visits, requests for future appointments can be sent automatically. The first step is to determine the appropriate cadence for sending out a request for the next booking based on the type of service the customer last booked, i.e., hair color, car services, warranty expirations, etc.
Build Up Text-based Marketing List: In a business environment where it is increasingly important to build up first-party opt-ins for text marketing purposes, texting offers a unique opportunity to let customers learn more about your products and services and receive special text-only offers. Acquire opt-ins while scheduling an appointment or after the meeting to create additional revenue opportunities and customer loyalty.
Overall, businesses choose this integration because it provides a convenient, efficient, and effective way to manage appointments and improve customer communication while boosting revenue and enhancing the customer experience.
How Texting Integration Works & Streamlines Appointment Scheduling?
Integration between different systems refers to linking the functions and data of separate applications so they can work together seamlessly. In our case, integration between a business texting software and an appointment scheduling application is achievable through "triggers" and "actions." Triggers are specific events that initiate a pre-determined action in the integrated system. For example, a trigger is activated when a new appointment is booked, and a confirmation text is automatically sent to the customer. Actions are automatic tasks that perform in response to a trigger event. In this case, the "action" is sending the confirmation text. By texting to automate appointment scheduling, businesses can ensure that their communication with customers is consistent and efficient, allowing staff to focus on providing the best customer experience and reducing repetitive tasks.
How to use Triggers and Actions between A Business Texting Solution and an Appointment Scheduling Service (Pre and Post-Appointment Examples):
Use Case: Converting Leads into Appointments
Objective: Have a new lead? Whether they filled out a form or texted in a keyword, try to get them scheduled right away while you are fresh on their mind!
Trigger: A new prospect or contact is added to your texting application with the tag "Lead."
Action: Send a message automatically with a link to book an appointment.
Result: Businesses can quickly engage with potential customers and provide an easy and convenient way to schedule an appointment.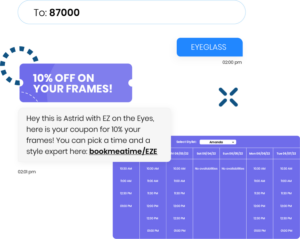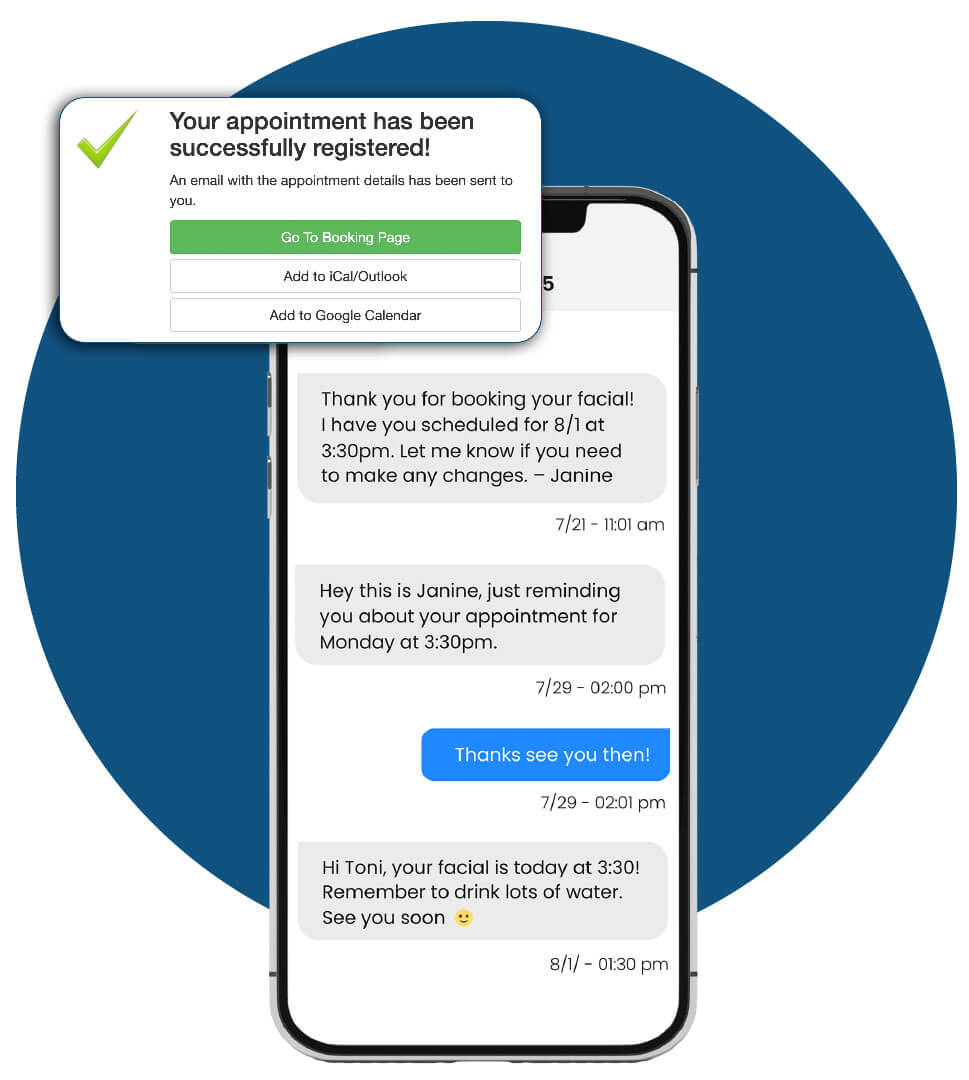 Use Case: Appointment Confirmation
Objective: Confirm a new appointment booking and provide necessary or additional resources
Trigger: New Appointment booking in your Scheduling Application
Action: Text a confirmation automatically to the customer, providing them with all the details they need about the appointment.
Result: All the appointment details are in one place and easily added to a client's CRM system and calendar, and you avoid having to place additional phone calls to confirm bookings.
Use Case: Eliminate No Shows
Objective 1: Remind and Prepare the Client for the Approaching Appointment
Trigger: An upcoming appointment is one day away (using a date-based catalyst in your application)
Action: Automatically send multiple text reminders, as needed, to the customer. Include the date, time, and location of the meeting, a virtual meeting link, or even a picture of the technician arriving at their home.
Result: Ensures they remember the appointment and helps reduce cancellations and no-shows.
Use Case: Ensure Preparedness
Objective: Prepare first-time clients for their meeting and request that they complete in-take forms in advance
Trigger: First Time Client/Patient Booked & Needs in-take information
Action: Send a text with a link to in-take forms to the customers the day before the meeting time
Result: By allowing customers to complete the forms in advance, you're saving yourself, your staff, and your customers time and ensuring a smoother appointment.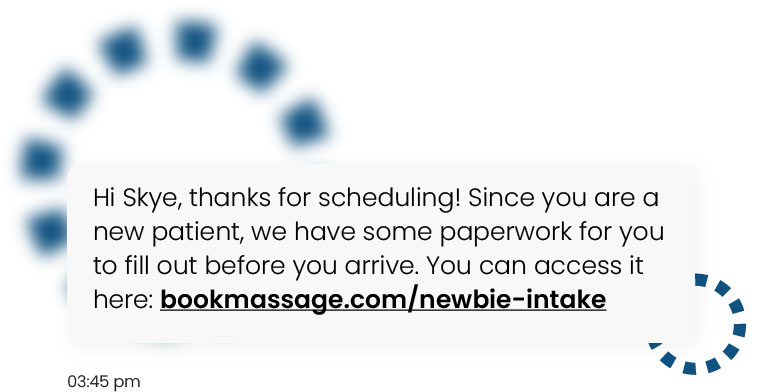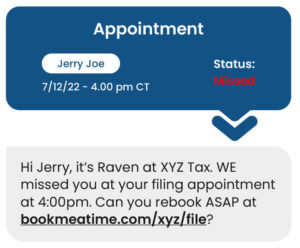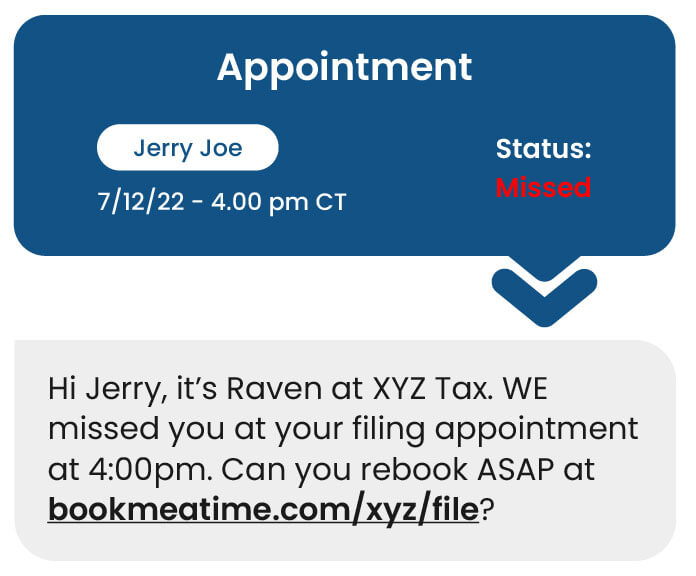 Use Case: Missed Appointment Follow up
Objective: If a customer misses or cancels their appointment, get them rescheduled quickly using this method.
Trigger: Appointment is marked as 'missed' in your scheduling app
Action: Send a link to reschedule via text.
Result: This gives customers an easy and convenient way to reschedule their appointments and helps minimize cancellations and no-shows.
Use Case: Obtain More Feedback & Reviews
Objective: After a completed appointment, there are many options for follow-up, retaining, or even rebooking the customer. Here is a strategy you can use to accomplish multiple goals utilizing a sequence of triggers and actions.
Trigger: Appointment status changes to 'attended.'
Action: Immediately send a thank you text to the customer, along with a link to a survey about their experience, or include your review link
Result: Texts are a convenient and more personal way to get feedback and review. Research has shown that this approach increases reviews by 300-400%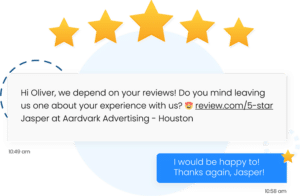 Use Case: Generate Repeat Bookings
Objective: After a completed appointment, why not send or schedule an invite to book their next service at the appropriate time, no matter if it is weeks or months in the future?
Trigger : (Date-Based) 7 Days After An Appointment is Completed
Action: Add contact to a drip campaign sequence (just like email drip campaigns) to get them booked for their next or additional service.
Results: Texting to automate appointment scheduling helps to increase and boost revenue and rebook satisfied clients. Plus, staff does not have to remember or manually track customers' previous meeting times to ensure they get their subsequent scheduling requests when they are most likely to convert again.
Summary of the Advantages of SMS Integration with Appointment Scheduling
Integrating business texting with appointment scheduling applications is a game-changer for businesses. Combining scheduling with business texting improves the customer experience and reduces cancellations and no-shows. This integration also generates revenue by encouraging more reviews and repeat bookings while creating new opt-in opportunities for customers. Furthermore, by texting to automate the appointment process and many tedious activities, staff can focus on other important tasks, improving company-wide productivity. Integrating business texting with appointment scheduling applications allows businesses to cultivate stronger customer relationships and loyalty. In addition, customers value the personalization and ease of text message communication.
In conclusion, when scheduling is crucial to the success of your organization, integrating business texting to automate appointment scheduling can be transformative. This is especially true for businesses looking to re-imagine their customer communications at every stage. The personalization and convenience of texting, combined with the reduction of missed appointments and the potential for new and increased revenue, make this integration an attractive option for businesses of all sizes, regardless of industry. As the benefits of business texting continue to become more widely recognized and demanded by consumers, we expect to see even more organizations embracing this technology and enjoying its advantages. So why wait? Start disrupting the market today with texting to automate appointment scheduling!