For years now, email has been the standard channel that businesses use to reach out to customers and clients. Whether it is for customer service updates, sharing promotional offers, bi-monthly newsletters, exclusive content, or updates about the business, email has been a prominent method for businesses to communicate with their customers on a large scale. With so many creative ways to send newsletters, emails were bringing good results for businesses. But that's not the case anymore. Emails have now reached a saturation point, as most of them tend to get ignored or overlooked in customer inboxes.
Depending on which report you to choose, it is widely accepted that between 88% – 91% of email traffic is now considered spam. By default, customers get desensitized to opening emails, hence reducing the efficacy of a business's email outreach and email marketing campaigns.
This means businesses must rethink their communications and marketing strategies and seek out other more effective and complementary channels. Recently businesses are recognizing that many consumers want to be able to communicate with businesses via text, given the attachment consumers have to their phones. Recent studies have shown that 97% of consumers with smartphones look at their phones on average 150 times a day, and that trend is only increasing. Businesses need to consider how to meet their customers where they are — on their phones — and how best to serve them there. Business texting services represent a new form of business communication (not limited by what simple cell phones do) that leverages these trends to help businesses address consumers in a new, more effective way.
Here are the 3 reasons why businesses are turning to text and how a business text messaging service is a resource you should consider utilizing for your business:
1) Business texting has the lowest opt-out rate of any communications channel and builds trust
You have probably noticed that some businesses are turning to text to provide enhanced customer services, such as appointment reminders, delivery notices, and even order confirmations. Those initial applications of texting have proven to be of value to consumers and are readily accepted by them. Sending a text with this type of information also reinforces an email that may or may not have been noticed. With less than 25% of phone calls being answered by consumers when it comes from a number they don't recognize, these notifications and reminders have been tremendously effective for businesses as well. These businesses have reduced their rate of "no-shows" on appointments and have cut down on the need for numerous phone calls.
Since the Telephone Consumer Protection Act (TCPA) provides regulations that govern how telecommunications services can be used with consumers, those types of applications were a logical starting point as there is no opt-in requirement when using texting to provide an existing customer with better service. Building on that acceptance, businesses are starting to appreciate that texting can do much more.
Opt-out rates for customer service applications are negligible. In fact, when the text message comes from a real business number, Textellent's clients see less than .033 percent opt-out rates – which is remarkable.
In today's environment, it is easy to add texting to existing business lines, whether they are VOIP lines, landlines, or even toll-free numbers, so all businesses can easily add a texting channel to their communications strategies. When the text message comes from a number consumers already recognize or even have in their contact list, it makes the text more likely to be read and responded to more quickly. 90% of texts received in this manner are read within 3 – 15 minutes, depending on which notification you read. That is an outstanding deliverability rate!
This makes business texting an obvious channel for additional customer service communications that can inform the customer throughout the customer journey of the status and changes to their order, the need for payment, the need for renewals, etc. By texting them at multiple points in the process of serving them, texting establishes a more efficient and valuable communication channel — one that will help you build more intimate and long-term relationships with your customers.
By building trust with customers in this manner, the chances of them opting out are much less. Customers will expect to receive text updates (though it is not to be over-used), and this expectation will continue to build trust with these businesses. This level of service has also been shown to lead to enhanced reviews and referrals too. More on that later.
Furthermore, at least 70% of consumers also claimed that they want to be able to text businesses rather than email or call them. The ease and speed of communication over text are high and seem to be a more reliable method of not only sending a message quickly but also receiving a response promptly.
Now let's consider how this can be applied to a business's marketing efforts. Since TCPA regulations indicate that in order to send marketing-oriented texts, you must have consumers opt-in to receive them. There are a variety of ways to make this possible. This ties into the next key reason businesses are turning to business texting.
2) 99% of texts are considered legitimate
(Research shows less than 1% are considered spam)
The fact that texts are considered less spammy makes sense. If consumers are receiving texts from businesses, they are either customers or have opted in to receive marketing messages. If they have opted in, then they are expecting these messages and are likely to find them relevant and of interest. So let's get back to how businesses can get consumers to opt-in and why businesses are turning to text to generate and nurture leads.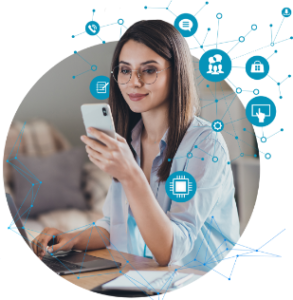 – If consumers text you first, then they have indicated they are willing to receive text responses, so make this easy for them. The site Statista reports that 54.8% of all internet traffic is from mobile visitors. One way to enable this is to provide a widget on your website that pops up a form to mobile visitors only, which is auto-populated for them, allowing them to text you their inquiry easily. By offering this alternative to reach your business you will open up this channel of communication to many visitors.
– Another approach to increasing your opt-in rate is to provide a compelling reason to do so. Many sites offer consumers a 10% discount on their order if they opt-in for emails, whether through a web form or during the check-out process. Consider offering an extra 5% if they opt-in for text messages. Keep in mind when they opt-in with their phone number, this is a fairly intimate gesture as our phone numbers are typically our private IDs now. Offering some form of incentive, whether it is a complementary product or discount, can be a great strategy. Consider that in 2021 67 million Americans redeemed coupons via their mobile phones! Opted-in customers are clearly interested in engaging with you; even if they are passively reading your texts, your brand is building awareness. And now, through texting, you can easily customize your messages, create drip campaigns and increase the engagement rate of your customers. Like email, text messaging also has the same potential to convert and credit each opened message to a sale, for example, by providing a trackable link. With the data shared earlier about deliverability rates, businesses can be sure their advertising is getting to the consumer.
– Now that your text message marketing list is building, businesses can start to promote loyalty programs. RetailDive has found that 72% of consumers are more likely to sign up for a loyalty program via text versus other mechanisms.
A note of caution! Any text messages you send as a business will always feel more personal to a customer, and that's why they would rather choose this as their preferred model for communicating with you than emails. This also means you can't over-text them. The best practice is to always set an expectation of how many text messages a month they might receive so that you don't abuse the privilege now that they have given you this personal piece of information. Sadly, this is one of the reasons emails have gotten so spammy since many organizations have started to email far too often to the point of irritating their customers. Be cautious, and don't do that with texting too.
At Textellent, our opt-out rate is at just 0.033%! With an opt-out rate like that, you will want to take your chances and reach out to more organic, highly converting leads.
3) Business texting offers immediacy and accessibility
Texting is relevant to today's lifestyle and day-to-day communication behaviors. After all, in the age of Twitter and social media posts, consumers expect short and concise messages and offers. Lengthy paragraphs and sharing information in 'bulk' like an email is not the standard way people communicate anymore. And with a majority of communication being done over smartphones, the short format of texting works, and this is another reason why businesses are turning to text.
More than 75% of people also said they would prefer receiving offers via SMS over any other format. Texts are also easier to navigate compared to emails, and this convenience is one of the biggest driving factors. As inboxes and social networking site feeds grow more clogged with advertisements and branded materials, business texting services offer a more customized way for businesses to interact with their target audience.
Make sure to choose a business texting service that allows the segmentation of texting lists, allowing consumers to be tagged for certain campaigns based on previous activity so that tailored messages can be delivered to them. Integrations with CRMs also allow for even more automation and effective segmentation, which aids in the effectiveness of your campaigns across multiple channels.
Personalizing communications based on real consumer data and behavior is critical, as is making such messages conversational. Texts from businesses should not feel dissimilar to those from friends or coworkers. This is a more intimate channel of communication, so that should be reflected in the tone of the messages. Customers should feel like the messages are sent from someone at the business directly, even though it may be a mass text campaign. The true opportunity with SMS is in a long-term engagement and the possibility to develop lifelong clients.
Also contributing to the immediacy effect is that businesses are now learning that people are more likely to revisit a text they have previously opened rather than emails. How often do people scroll through emails a week to see the ones they miss? When it comes to texting, people are more likely to scroll through a thread to find something notable that they may have been looked over. In fact, it takes around 90 seconds for anyone to respond to a text message. Compare that to the average time it takes to respond to an email, which is 90 minutes.
Further, the likelihood of a message being opened or seen, or engaged with is much higher than emails. After all, tablets, watches — your messages popping up anywhere they are, and not getting lost. Texts are also much less daunting when compared to emails, and since they are already opted-in, consumers are more likely to take some action. A quick message is short, and to the point, so it does not take them much time to read and understand either. As attention spans continue to dwindle worldwide, business texting is at the right place at the right time, and your business should capitalize on this.
Hence, texting, being a natural and immediate mode of communication, should be part of every business's customer engagement strategy. Its special suitability for omnichannel marketing makes it an important consideration.
Join the next wave in customer communication –
With emails clearly losing importance and efficacy in a business's marketing campaigns, the next wave for such customer communication is business texting. Texting will help you facilitate your communication, marketing, and client relationships in ways that emails simply can't. That is why more and more businesses are turning to business text messaging.
The use of business texting services seems to be a natural extension of today's communications trends and can make your campaigns much easier to conceptualize, deliver and generate results. Right from the ease of sending text messages out to high opt-in rates, there's so much that texting has got going for it. Just ensure that you're using the right channels to reach out and are keeping an eye on your SMS metrics.
Clearly, business texting services can be a big game-changer when it comes to your marketing and communication tools. It's time to consider business texting a key business tool. See for yourself the difference it can make and why other businesses are turning to text.
Integrate texting in your business – reach out to Textellent now.