In today's digital world, business communication has evolved considerably. One of the most effective ways to connect with customers is through texting. Texting customers can be a powerful tool for interacting with your audience, resolving issues, and boosting sales. However, starting a conversation through text messages requires grace and strategy. In the following, we'll explore some good conversation topics for texting customers that can help your business thrive in the age of mobile communication.
Why Texting Customers Matters
Before looking into conversation starters, it's important to understand why texting customers is necessary for your business. Text messaging offers several advantages, including:
Instant Communication: Text messages are read quickly, making it a great channel for urgent matters or time-sensitive promotions.
High Open Rates: Incredibly high open rates apply to text messages, so you'll know your messages will be viewed by your customers.
Personalization: You can personalize text messages to address customers by their name, creating a more intimate connection.
Convenience: Texting is convenient for both customers and businesses. It allows for quick exchanges without the need for lengthy phone calls or emails.
Customer Engagement: Texting can improve customer engagement. This can lead to increased loyalty and retention.
Now that you understand the importance of texting customers, let's talk about some conversation starters that can help you make a lasting impression.
Conversation Starter Ideas/Personalized Greetings
Start your text conversation by addressing the customer by their name. For example, "Hello [Customer's Name], we hope you're having a great day!" Personalization creates a more welcoming and friendly atmosphere.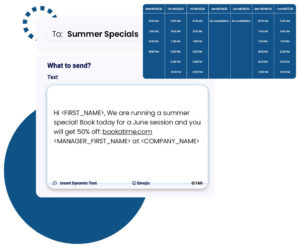 Recent Purchase or Interaction
If the customer has recently made a purchase or interacted with your business, use this as an opportunity to follow up. For instance, "Hi [Customer's Name], we noticed you recently purchased [Product/Service]. How are you enjoying it so far?"
Exclusive Offers
Entice customers with exclusive discounts or promotions. Begin with something like, "Hello [Customer's Name], as a valued customer, we have an exclusive offer just for you!" This can pique their interest and encourage further engagement.
Feedback Requests
Show your commitment to improving by seeking feedback. Start with, "Hi [Customer's Name], we value your opinion. Could you please take a moment to share your thoughts on your recent experience with us?"
Event or Product Launch
If your business is launching a new product or hosting an event, inform your customers via text. For instance, "Exciting news, [Customer's Name]! We're launching a new product next week. Would you like a sneak peek?"
Seasonal Greetings
Send personalized seasonal greetings to customers during holidays or special occasions. For example, "Happy Holidays, [Customer's Name]! We hope you have a wonderful time with your loved ones."
Problem Resolution
If a customer has raised an issue, start the conversation by acknowledging their concern and assuring them that you're working on a solution. "Hello [Customer's Name], we're sorry to hear about the issue you encountered. Rest assured; we're actively addressing it."
Learn and Utilize All the Best Texting Methods
Engaging with your customers via text messaging is a valuable asset for today's businesses. Using these conversation initiators allows you to craft compelling, personalized, and highly effective text messages. This enriches customer relationships and propels business expansion. It's important to maintain consistency and relevance in your customer texts. Always extend the option to unsubscribe if they desire.
With Textellent, you can harness the potential of heightened customer engagement, which can lead to quantifiable business growth. At Textellent, our mission is to simplify your customer interactions through an acclaimed automated texting service. Contact us today to explore our product offerings and begin your complimentary trial! Let our text-based solutions bring your business to new heights. You can also connect with us via phone or text at 972-200-7250.