Streamlining and optimizing business operations is simpler than ever by integrating a Business Texting Platform with QuickBooks Online. Businesses can use this integration to increase communication, streamline processes, get payments faster, and so much more!
How do I Integrate a Business Texting Platform with QuickBooks Online?
Textellent's Business Texting Platform integrates with QuickBooks Online, so you get the most out of our features and services. This integration allows businesses to spend less time on repetitive tasks and outreach while amplifying operations.
Textellent's advanced APIs and Zapier application make integrating business texting a breeze. With the help of these technologies, text conversations, attachments, appointments, payments, and more can be safely saved and synced quickly. No more complicated setup or long learning processes; it's easy to stay connected with Textellent! Easily set it up the integration by following these few simple steps.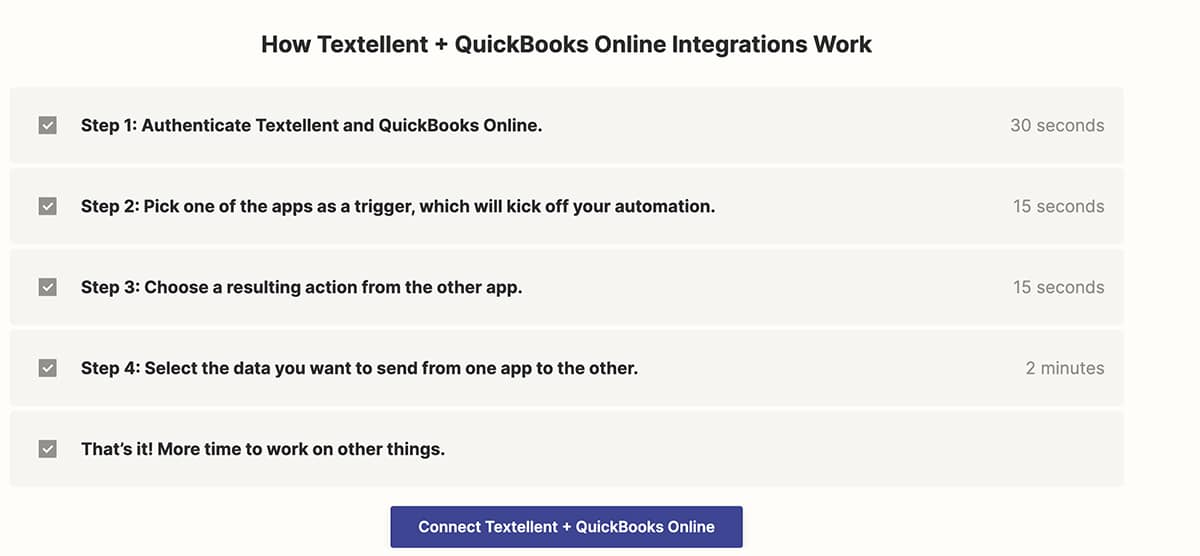 Textellent's Text Messaging Capabilities Integrated with QuickBooks Online
How to Engage Customers and Clients Throughout the Customer Journey via Text with the Integration:
Businesses using this integration can automate or simplify touchpoints – from the initial contact all the way through to follow-ups requesting referrals or reviews. Zapier integration allows for actions taken in your QuickBooks Online account to act as triggers for follow-ups or next steps, automatically. For example: If a new customer is added to QuickBooks Online, perhaps an automatic text message should go out with a link inviting them to schedule an appointment, receive an estimate, or additional services your business offers.
Keep up with Estimates & Follow-ups
Want to make sure your estimates don't fall through the cracks? Want to make sure your estimates don't fall through the cracks? Streamline the follow-up process and create a gentle "drip" campaign consisting of text messages that include estimate reminders, testimonials, pictures of past projects, and more to get customers to respond to estimates quickly. Textellent's Quickbooks online integration allows 'sending a new estimate' to trigger your new drip campaign, so follow-up is a breeze.
How Business Texting Integrations with Quickbooks Online Get You Paid Faster
Integrate this powerful customer engagement tool with QuickBooks Online to send automated and personalized text messages about new or updated invoices, payment reminders, and past-due payments. Using QuickBooks Online triggers in Zapier, once a new invoice is sent, a text message with a payment link can be sent in addition, so you get paid faster. As a result, businesses eliminate or minimize the chance of customers missing emailed invoices, keeping them "top of mind," and making the way you receive payments more effective.
Easily Get Reviews and Referrals
Once an invoice has been paid, trigger your Business Texting Platform to send a follow-up text message thanking them for their business and asking about their experience, requesting reviews, or referrals. This cuts down on any of the awkwardness of asking during a meeting. Plus, you can be sure that your satisfied customers are recognized, potentially adding even more value to your business.
Drive Repeat Business
Keep customers coming back and increase revenue with automated text campaigns designed to trigger at regular intervals. Connect with customers based on the date of their last purchase or invoice in Quickbooks, and invite them to return again and again. With this method, you can drive repeat business and see consistent growth in your sales.
In conclusion…
By using a business texting platform integrated with QuickBooks Online, you'll be able to minimize lengthy phone conversations, automatically keep clients in the loop, get SMS responses, and receive payments faster! Additionally, you and your clientele will reap the benefits of tapping into an advanced method of communication. So, try it today to start seeing these benefits in your business!
More on Textellent's Zapier Connectivity
Textellent's Business texting solution easily integrates with existing applications in just a few clicks thanks to the advanced Zapier connections. With these connections, businesses can quickly and efficiently incorporate business texting into their workflow with minimal time and effort.