Today, before deciding to purchase a product, people look at the product options, prices, and reviews across many platforms. We know that many consumers will only take action only after reading a positive review. That's because, these days, there are many options and websites available for every single service and product. This is why reviews have become so critically important, and you need to have a strategy for capturing those good reviews from your customers.
Real-life, authentic customer reviews become the decision-making factor for many buyers. Good reviews are effective, yes, but what's even more effective is a large number of good reviews. A business texting service is a good way to start accelerating your online reviews.
What are the benefits of getting online reviews?
Grow your online visibility
Online reviews are basically word-of-mouth references of the virtual world. These references aid the new buyers in making informed, well-thought-out purchasing decisions. The more positive reviews, the better. A good way to leverage the reviews for online growth includes using them on your website, across your social media channels, in your targeted ads, and more.
Gain trust from viewers
Even well-known brands with a lot of repeat customers and references have to work hard to continue to maintain trust with their reviews. With every purchase, customers are likely to check the latest reviews. This can be achieved through consistently adding new reviews — when a product or service has a high number of good and recent reviews, customers will be more likely to do business with your brand.
Increase your sales & revenue
It's simple – good reviews generate revenue by making decisions easier for people who are conflicted between multiple options. When done right, reviews can help you increase your sales drastically. The quantity of good reviews is also vitally important.
Improve your product/service
Reviews are a good way to get useful feedback that will help you identify your customer's needs and show you how you can incorporate those needs into your offerings. This will help you improve the quality and features of your offerings, allow you to market this new product strategically, and increase your sales.
So how can you get the best customer reviews using text?
First, ask them about their experience
After they've made the purchase, consider asking your customers to rate your service/product on a scale of 1-5 or ask them with an open ended-question to provide comments. This way, you can identify the customers best suited to leave good reviews. It is equally important to follow up with those who gave a bad rating or reaction in order to turn the situation around. Otherwise, you risk getting a bad review. Texting review requests helps you manage all reviews more effectively.
Great rating? Now ask for a review
After understanding your customers, send a text message asking them to leave a review on whichever sites you need. You can include the link so customers can then add reviews with a single click. There's plenty of evidence in the market that satisfied consumers will leave a review if only asked – so don't miss that opportunity. A business texting solution can make asking for those reviews easy and personal without being too intrusive.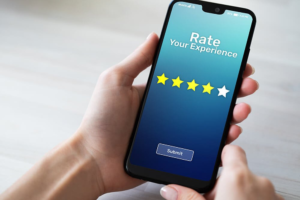 Consider offering incentives for reviews
You can consider rewarding your happy customers for their reviews with something nice like a discount code.
You can never have too many good reviews, and if you can also prevent bad ones, this is a great strategy for improving your odds. So, go ahead and ask your customers for their reviews, and start accelerating online reviews with a business texting solution.