Today, customers expect quick and efficient communication from businesses, including restaurants. But with so many channels available, knowing where to focus your efforts can take time. Luckily, text message marketing is a powerful tool to help restaurants reach their customers directly and increase sales. In this blog post, we will explore the benefits of text messaging for restaurants and provide practical tips for creating compelling text campaigns. In addition, we will cover texting for reservation management, increasing sales and customer loyalty through text message marketing, building a subscriber list, and crafting effective messages.
By the end of this post, you will better understand how text messaging can benefit your restaurant or food-service business and how to create successful campaigns that engage and delight your customers. So, whether you're a small independent restaurant or part of a larger group with multiple locations or chains, read on to learn how text message marketing can help you grow your business.
Getting Started: Texting for Reservation Management
One of the most popular uses of business texting for restaurants is for reservations and waitlist management. Using this strategy, customers conveniently send in their reservation requests via text message or ask your staff to add them to the waitlist, saving them time and hassle.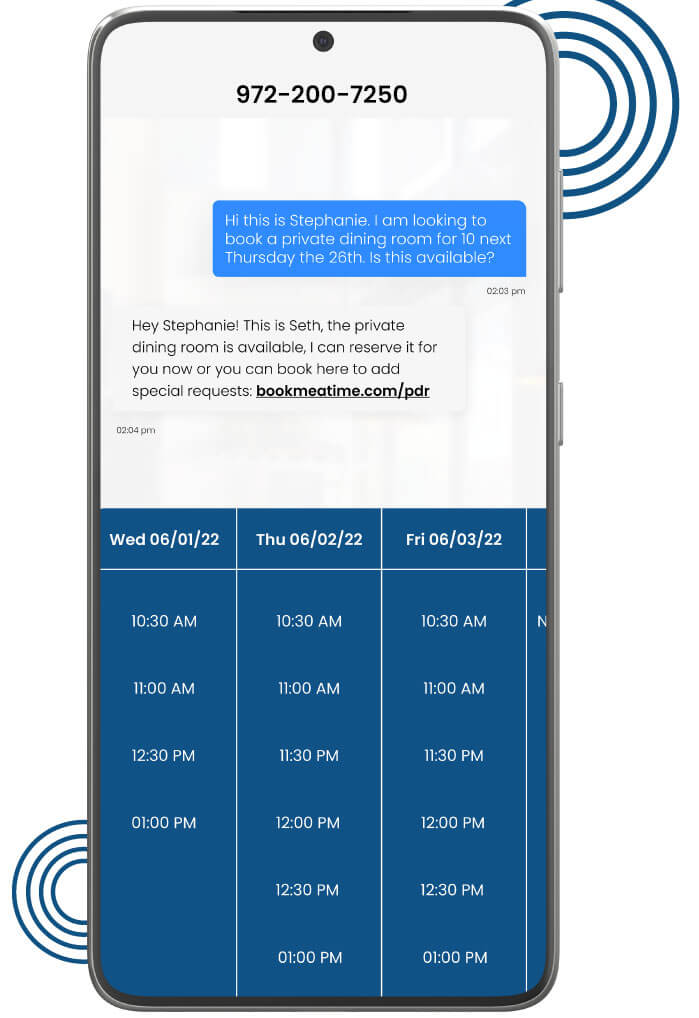 How to Use Texting for Reservation Management:
Setting up text-based reservations: Restaurants can use a text messaging platform to receive reservation requests via text. The process can even be automated, with customers receiving a confirmation text from the restaurant's main business number (not a random number) once their reservation is confirmed. They can also receive a text once they are called from the waitlist. It's essential to ensure the process is easy and that customers receive prompt responses to their reservation requests.
Using Texting for Reservation management simplifies restaurant operations. By providing a convenient and reliable way for customers to make reservations, restaurants can improve the overall dining experience and increase customer loyalty. Furthermore, this method allows accessible communication with customers about changes or updates to their reservation or waitlist status and frees up your staff from answering phone calls, allowing them to focus on providing outstanding service to customers in the restaurant.
Text-to-Order: Pick-up and Delivery
Text messaging can also streamline the ordering process for restaurants. By using a text messaging platform, restaurants can offer customers a hassle-free way to place orders for pick-up or delivery without needing a third-party ordering system or app.
Setting up text-based ordering: Using a Texting platform, customers can text their order to the restaurant's designated phone number. The restaurant can respond with a confirmation and an estimated pick-up or delivery time. This direct communication channel lets customers ask questions, request add-on items, or clarify delivery details in real-time.
Text ordering is convenient for customers and can save restaurants time and money by reducing the need for third-party apps that charge fees and cut into profits. Additionally, by cutting out the ordering middleman, restaurants can gain better customer insights and feedback and even capture text marketing opt-ins.
By streamlining the ordering process, restaurants can provide a better customer experience, reduce wait times, and increase order accuracy. This can ultimately lead to higher customer satisfaction and repeat business.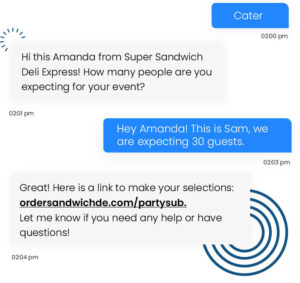 Increasing Sales and Customer Loyalty: The Power of Text Messaging for Restaurants
Text message marketing can be a powerful tool for managing restaurant reservations, but the possibilities go further! By implementing a texting strategy, businesses can reach their customers directly and provide personalized promotions, updates, and reminders. This can lead to increased engagement and repeat business, ultimately driving up sales and revenue. Here are some additional ways that you can use text message marketing to achieve these goals: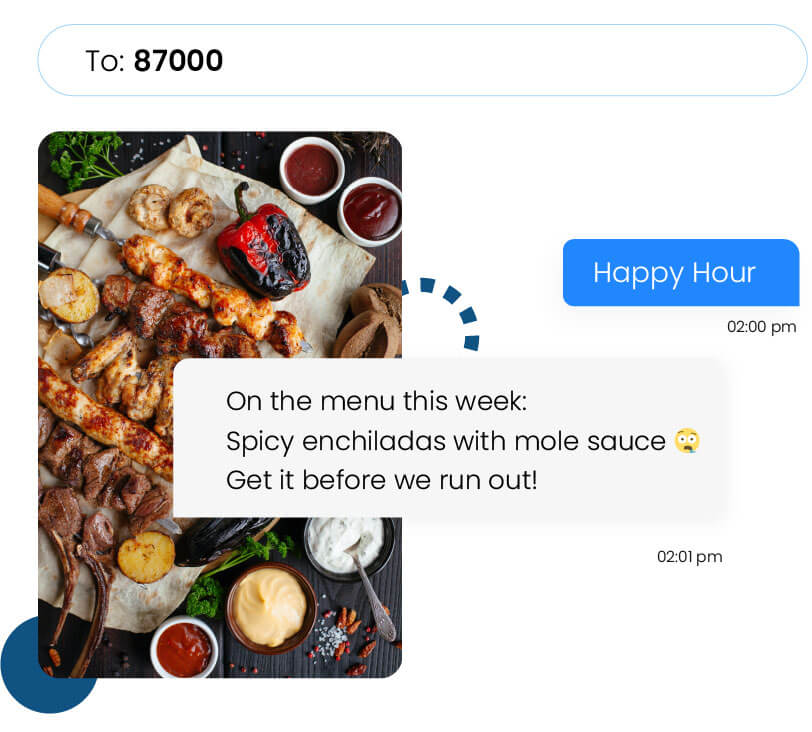 Promoting Special Offers and Discounts: Use text message marketing to promote special offers and discounts to customers, such as free desserts or appetizers, meal deals, or special promotions for holidays or events. These promotions can entice customers to make a reservation or order, increasing sales for the restaurant.
Providing Relevant Information: With text message marketing, you can also provide customers with relevant information, such as menu updates, new hours of operation, or changes in specials or promotions. For example: "Text 'Happy Hour' to 87000 to receive texts about new and limited menu options."
Remarketing via Text: Remarketing through text messages involves sending targeted messages to customers who have previously visited or purchased from your restaurant. By reminding customers of their previous experience with the restaurant and offering incentives for repeat business, restaurants can increase sales and customer loyalty. For example, a restaurant can text customers who last visited a while ago, offering a discount or special promotion to entice them to return. This strategy helps refresh your customers' memories and gets them back in the door.
"We offer our cafe customers a free sandwich on their birthday if they text in their birth dates. After that, we use texting to tell them about new menu items, holiday menus, and other specials. It's great, and who doesn't like to be remembered on their birthday!"

Jeffrey W.
Owner – Legacy Cafe
Building Trust and Improving Reputation: Gaining Reviews through Text Message Marketing
Another effective way restaurants can use text message marketing is to request customer feedback and reviews, which can help improve offerings, build trust and loyalty, and even boost search engine rankings (SEO).
Hear Customer Feedback: Using Text messaging, you can request customer feedback and reviews, which can help improve your products and services. By sending a simple text message requesting feedback after a meal or visit, restaurants can gain valuable insights into their customers' experiences and identify areas for improvement.
Gain Online Reviews: Positive reviews attract new customers, as many rely on online reviews when choosing a restaurant. Additionally, responding to customer complaints or issues promptly and professionally can demonstrate a commitment to customer satisfaction and build trust and loyalty.
Boost your SEO: Online reviews can positively impact a restaurant's search engine optimization (SEO). When customers leave positive reviews on sites such as Google, Yelp, or TripAdvisor, it sends a signal to search engines that the restaurant is popular and provides quality service. In addition, boosting your restaurant's search engine rankings makes it more visible to potential customers searching for restaurants in the area. By leveraging text message marketing to encourage customers to leave reviews, restaurants can improve their online reputation and increase their visibility, increasing sales and customer loyalty.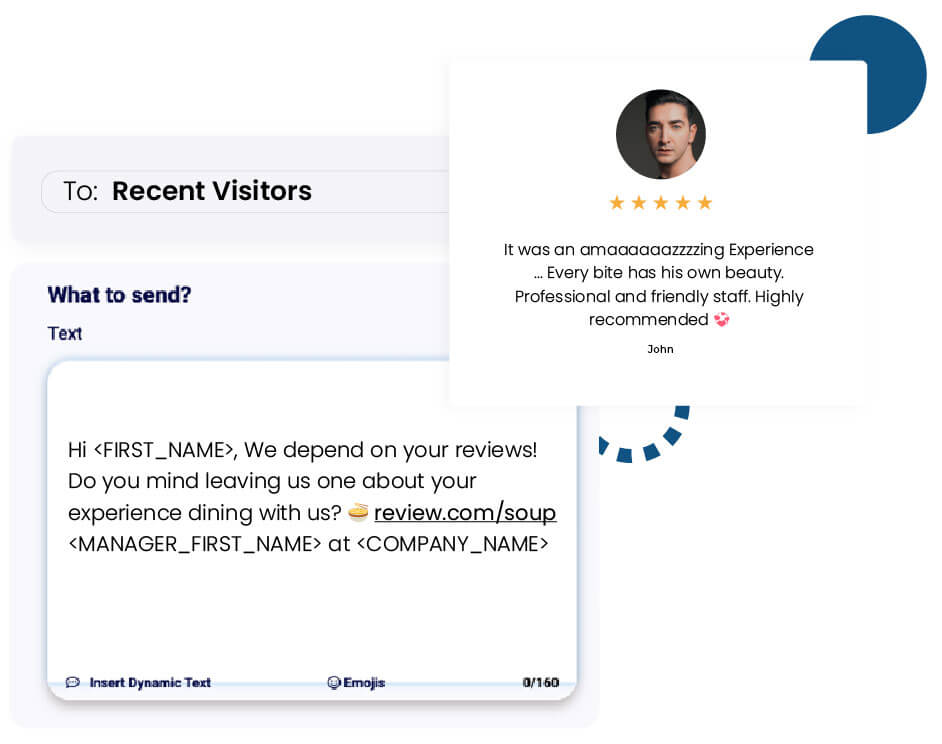 By using text message marketing to actively engage with their customers and demonstrate a willingness to listen and improve, restaurants can build a loyal customer base, boost online visibility, and increase sales over time.
How to Get Customers to Opt-In for Restaurant Text Messaging
Before using texting to market to communicate with your customers, you must build an "opted-in" text marketing list. This is important as the Federal Communication Commission has recently established strict rules to protect consumers from spammers, so you want a strong "opt-in" strategy. This is possible by promoting "text-only" offers with various ways to sign-up. These ways include adding a sign-up form to your website or social media pages, asking customers to opt in during in-person interactions, offering tabletop signage, or offering a special promotion immediately for those who sign up. Additionally, make sure to clearly communicate the benefits of joining your texting list, such as exclusive promotions or updates on special events. And always make it easy for customers to opt-out if they no longer wish to receive texts from your restaurant so you remain compliant. Here are some best practices for building a booming restaurant text marketing list:
Encourage Customers to Opt-in to Restaurant Text Messages: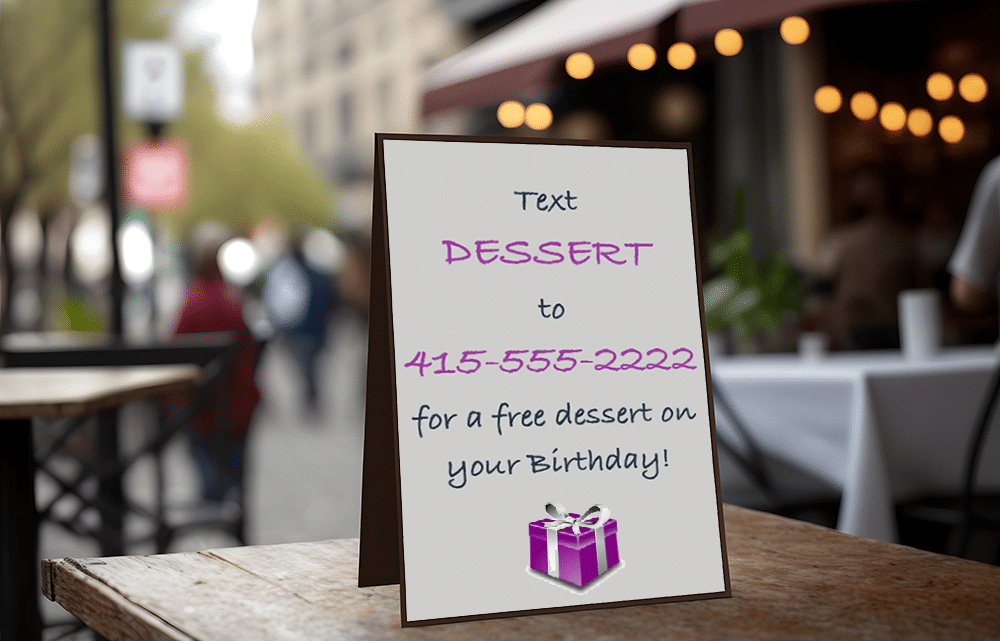 Incentivize Opt-Ins: Offer special incentives or promotions to customers who opt-in to your text messaging program. For example, offer a coupon for the customer's next meal or a free dessert on their birthday when they opt in.
Make it Easy to Opt-In: Place signs on tables in the restaurant with a short code keyword that customers can text to opt-in, include an opt-in link in your email newsletters, review requests, or promote a keyword on social media and other marketing channels you already use.
Offer Relevant Information: Customers are more likely to opt-in to a text messaging program if they believe it will provide them with relevant information. Examples include promotions or updates on new menu items. Customers should have clear expectations about what kind of messages they will receive from your text messaging program. Ensure that the information provided is valuable to the customer.
*Tip for Building a Booming Subscriber List: Segment your subscriber list based on customer preferences and behavior. For example, if a customer responds to your marketing campaign for updates on specials or limited-time menu items, segmenting your list means you can add the tag "Specials" to ensure they receive promotions for those limited-time offers or featured items. Moreover, segmentation allows you to send more targeted messages that are more likely relevant to the customer.
By incentivizing opt-ins, making it easy to opt-in, and offering relevant information, restaurants can build a strong subscriber list. Whatsmore, by communicating directly with customers, increasing sales, and improving customer loyalty, restaurants can reap the full benefits of text message marketing.
Effective Messaging: What to Say and How to Say It
When using business texting for your restaurant, creating engaging and personalized messages that will capture your customers' attention is important. Avoid generic messages; instead, use the customer's name and reference their previous orders or preferences. You can also include special promotions or discounts to incentivize them to revisit your restaurant. Keep your messages concise, and have a clear call-to-action, such as "Reply YES to confirm your reservation." By creating engaging text messages, you can improve customer engagement and loyalty. Here are some Restaurant and Food-Service text messaging campaign examples you can use in your business's customer journey:
SPECIAL OFFER
Thanks for opting in to be the first to know about our specials! Here is your coupon for a free dessert!
LIMITED TIME OFFER
On the menu this week: <WEEKLY_SPECIAL> 🤤 Get it before we run out! <RESTAURANT_NAME>
RESERVATION CONFIRMATION
Hi <FIRST_NAME>, Your reservation for a private party with 10 guests is confirmed for 8pm on Thursday. See you then! – <RESTAURANT_NAME>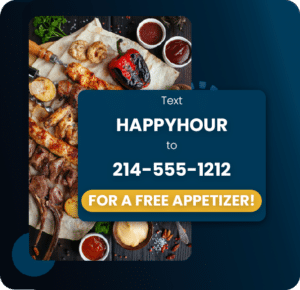 REVIEWS
Hi <FIRST_NAME>, We depend on your reviews! Do you mind leaving us one about your experience dining with us? 🍜 <REVIEW_LINK>
LOYALTY PROGRAM
Hi <FIRST_NAME>, So glad to have you join our VIP Club! This entitles you to some of our "off-menu" specials and text-only VIP-only offerings. – <MANAGER_NAME> at <RESTAURANT_NAME>
HOLIDAY
Happy Holidays, <FIRST_NAME>! Wishing you a joyous and safe Holiday Season! – <MANAGER_NAME> at <RESTAURANT_NAME>
BIRTHDAY
Happy Birthday <FIRST_NAME>, Here is a coupon for a free dessert! We hope you have a great day. – <RESTAURANT_NAME>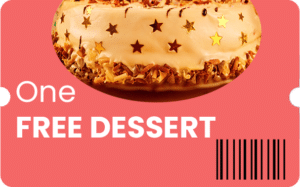 Conclusion
Restaurants can leverage the power of text messaging to enhance customer communication and boost sales. With well-crafted messages, a growing subscriber list, and the option for text-based reservations, restaurants can offer a personalized and convenient experience that keeps customers coming back. From promotional offers to reservation confirmations, text message marketing provides a versatile and effective way for restaurants to connect with customers. Therefore, we recommend that all restaurants consider incorporating text message marketing into their overall marketing strategy to stay ahead of the competition and foster stronger customer relationships.